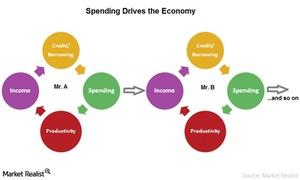 Why Ray Dalio Says a Recession Isn't around the Corner
By Surbhi Jain

Updated
Ray Dalio doesn't see a recession in 2016–17
Ray Dalio doesn't see the next downturn happening anytime this year or the next. However, he does believe it will come. Dalio believes the United States (VFINX) won't be able to easily deal with its next recession—whenever it comes.
Article continues below advertisement
The risk facing the US Fed is asymmetric
Just like every other economy, the United States will also follow the short- and long-term debt cycles. The risk for the US Fed, however, remains asymmetric, according to Dalio. The upside risk[1. The economy improving, inflation rising, and the need to tighten] is easier to tackle than the downside risk[2. The economy weakening, inflation not rising, and more easing required].
This difference is mainly because the central bank seems to have maxed out its policy tools to spur growth. Lowering interest rates, which is the first and foremost tool for central bankers to spur lending, spending, and economic growth, has hit its limit. Growth and inflation in the United States still seems to face headwinds.
The Fed needs to spur spending
With quantitative easing losing its efficacy, the US central bank is caught in a sticky situation. If it raises rates too quickly, the stock (IVV)(VOO) and bond (BND)(AGG) markets may react adversely. It could also impact wealth and spending. However, spending is a crucial element of economic growth, according to Dalio. Spending drives the economy, and it's therefore critical for the central bank to spur spending.
Also, debt is the force that matters most in the short term because it allows us to consume more than we produce when we take on debt, and it forces us to consume less than we produce when we have to pay it back, according to Dalio. So it becomes pertinent for the Fed to study the debt cycle, as we discuss in the next part of this series.