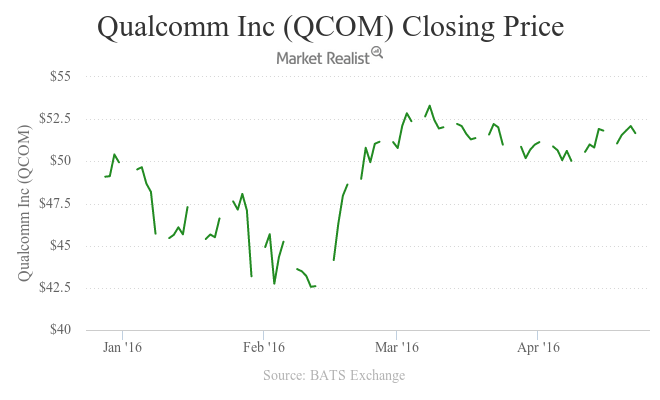 Qualcomm's Fiscal 2Q16 Earnings: Positive and Negative Surprises
Qualcomm's fiscal 2Q16 earnings highlights
This earnings season appears to be a mixed bag of positives and negatives. The smartphone and PC weakness is taking its toll on semiconductor companies' guidance. Recently, Intel (INTC) announced growth in fiscal 1Q16 but weaker guidance for fiscal 2Q16.
[marketrealist-chart id=1243661]
The mobile chip giant Qualcomm (QCOM) had better-than-expected earnings for fiscal 2Q16 ended March 27, 2016. However, Qualcomm had weaker guidance for fiscal 3Q16, owing to the slowing sales of premium smartphones and the weak demand for 3G and 4G devices from emerging markets (EEM).
Despite strong earnings, Qualcomm's stock fell by 2.4% to $50.83 when the market opened on April 21, 2016, owing to weak guidance. The stock rose by 3.5% to close at $52.64 on April 22, 2016.
Qualcomm has high exposure in the smartphone market. It earns more than 97% of its revenue from selling mobile chipsets or licensing its technology to handset makers.
Article continues below advertisement
Factors that played well for Qualcomm
At the fiscal 2Q16 earnings call, the company announced three factors that played well for it during the quarter.
Firstly, it reached a settlement with LG over a dispute regarding licensing fees.
Secondly, it signed licensing agreements with more than 100 Chinese handset makers.
Lastly, its new Snapdragon 820 processor received several design wins from high- and low-end handset makers, including Samsung (SSNLF).
However, these factors were offset by a few factors, which are reflected in the company's weaker guidance for fiscal 2Q16.
Factors that played against Qualcomm
While Qualcomm received design wins from Samsung, it lost some orders from another key customer, which is believed to be Apple (AAPL). There have been rumors that Apple is likely to use Intel's baseband modems in its next flagship product, the iPhone 7.
The decline in smartphone sales is aggravating the company's situation, especially in the premium segment. Apple is set to report its first decline in iPhone sales in its March 2016 quarter.
Increasing competition is squeezing Qualcomm's profits and pressuring its revenue.
In this series, we will discover how the above factors impacted Qualcomm's financial performance in fiscal 2Q16 and its fiscal 3Q16 guidance.