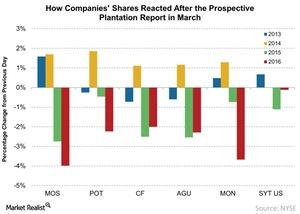 Prospective Plantings Report: Effect on Seed and Fertilizer
By Adam Jones

Updated
Companies impacted on the day
We've looked at the USDA's (United States Department of Agriculture) Prospective Planting report. Now let's look at how related companies in the industry (XLB) have reacted to the report issued at the end of March over the past four years.
Article continues below advertisement
Moving together
The above graph captures how six key companies in the seed and fertilizer industry have reacted to the Prospective Planting report over the past four years. The recent report made most of the stocks fall. Mosaic (MOS) fell the most by 4% compared to the previous day. Monsanto (MON) was next with a 3.7% fall during the day. The least impacted was Syngenta (SYT), which doesn't have as heavy of an exposure to the US market as Monsanto.
For each of the past two years, companies have reacted negatively. If you look at the graph in Part 1 of the series, you'll see how they've trended each year.
Acreage report
The USDA also issues an acreage report at the end of June each year. It shows the actual acres planted during the season. Bear in mind that the Prospective Planting report only shows the intention, which can differ from how much farmers end up planting. According to the acreage report, last year, Agrium (AGU) consistently rose the most in the industry (MOO). Agrium retails fertilizer, unlike other fertilizer companies such as CF Industries (CF), PotashCorp (POT), and Mosaic (MOS). So this report is a good proxy for Agrium.