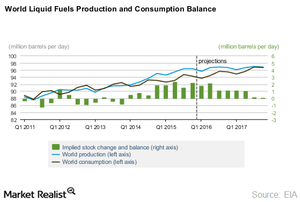 Why Is a Production Freeze a Key Catalyst for Crude Movement?
Production freeze and crude oil
On April 17, 2016, OPEC and non-OPEC producers will meet to discuss a possible production freeze agreement. The talks aim to lock the production levels of participating countries at January 2016 levels.
Crude oil had already started discounting this news and on April 12, 2016, crude oil (USO) (UCO) rose by 1.6% and closed at $40.36. However, the PowerShares DB Commodity Tracking ETF (DBC) rose by 0.75%, reflecting the broader market sentiment for commodities.
Article continues below advertisement
Why freezing crude oil output may be worthless
Neil Atkinson, head of the EIA's[1. U.S. Energy Information Administration] oil industry and markets division, indicated that production freeze talks are "worthless" as far as crude oil prices are concerned. He pointed out that Saudi Arabia is the only country that can increase its output. Other countries that are willing to participate in the production freeze talks are already operating at maximum capacity.
Can a production freeze boost crude prices over the long term?
Until 4Q15, the global crude oil market was oversupplied by 2.23 MMbpd (million barrels per day). OPEC's supply stood at 31.7 MMbpd in January 2016, the same as the levels in December 2015. If the production freeze talks succeed, it could take at least one to two years to adjust the demand with the supply.
The EIA's forecast estimates 1.1 MMbpd growth in demand in 2016 and 1.2 MMbpd growth in demand in 2017. The data clearly outlines that while news of the production freeze talks was primarily responsible for the rally in crude oil prices in the last two months, it still needs time to end the supply glut situation in the crude market.
The above graph shows the EIA's projections for 2016 and 2017.
Oil weighted stocks
Upstream companies Northern Oil & Gas (NOG) and Denbury Resources (DNR) rose by 2.0% and 2.4%, respectively, on April 11, 2016. They operate with crude oil production mixes of 87% and 100%, respectively.
Oasis Petroleum (OAS) rose by 1.3% on April 11, 2016. OAS operates with an 87.3% production mix of crude oil.