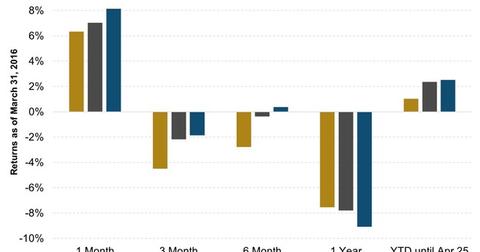 Why PRESX Was Hit by Information Technology Stocks in 1Q16
By David Ashworth

Updated
Performance evaluation of the T. Rowe Price European Stock Fund
The T. Rowe Price European Stock Fund (PRESX) fell 4.5% in 1Q16, making it a below-average performer among the 12 funds in this review. In the past one year, the fund has fallen 7.5%, putting it in the middle of the pack of our 12 funds. Meanwhile, from the end of December 2015 until April 25, 2016, the fund has risen 1.0%. In the graph below, you can see its performance against two ETFs: the Vanguard FTSE Europe ETF (VGK) and the iShares MSCI Eurozone ETF (EZU).
Let's look at what has contributed to PRESX's below-average performance in 1Q16.
Article continues below advertisement
Portfolio composition and contribution to returns
Financials, PRESX's joint largest invested sector, was the biggest negative contributor to the fund's returns in 1Q16. Credit Suisse Group (CS) and Intesa Sanpaolo SpA (IITSF) were primarily responsible for the sector's poor showing. Royal Bank of Scotland Group (RBS), Aviva (AV), and a few others contributed as well.
The negative contribution by IT (information technology) stocks was quite substantial. IT followed financials at the second spot, even though the sector formed less than 8% of the assets. Wirecard and SimCorp combined drove the sector's returns down.
Novartis AG (NVS) pushed the healthcare sector down, with Roche Holding (RHHBY) and AstraZeneca (AZN) contributing a sizable chunk to the sector's overall negative contribution.
Industrials and consumer staples were quite close in terms of positive contribution for 1Q16. However, the positive contribution from industrials was reduced due to individual negative contributors from the sector.
Investor takeaways
Financials and healthcare stocks from Europe have generally had a hard time in 1Q16. So it was no surprise when these sectors emerged among the biggest negative contributors to PRESX's returns for the period. However, it was its stock picks from the information technology sector that drove down the fund's performance to below average. Although consumer staples and industrials emerged as positive contributors, their contribution was unspectacular.
PRESX was beaten by passively managed VGK in terms of total returns for 1Q16. PRESX's stock picks from the consumer discretionary and healthcare sectors contributed less negatively to the fund compared to VGK. But all other sectors in the passive fund did better than its active counterpart.
RESX has certainly seen better days than this. Investors with a long investment horizon may choose to do nothing. But investors nearing the end of their investment horizon may decide to diversify if their losses aren't big and if they're still making a profit.
We'll look at the Franklin Mutual European Fund – Class A (TEMIX) in the next part of this series.