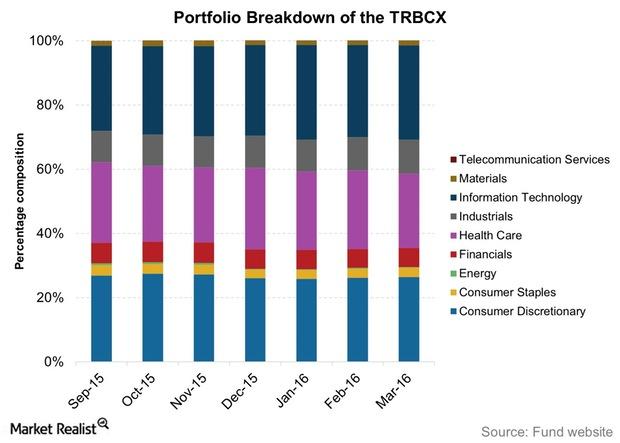 What Portfolio Moves Did TRBCX Make Leading Up to 1Q16?
By David Ashworth

Apr. 25 2016, Published 4:04 p.m. ET
T. Rowe Price Blue Chip Growth Fund
The T. Rowe Price Blue Chip Growth Fund (TRBCX) "invests in the common stocks of large and medium-sized blue chip companies that have the potential for above-average earnings growth and are well established in their respective industries."
The fund manager looks for companies that enjoy strong market positions, seasoned management teams, solid financial conditions, and above-average earnings growth and profitability. Prospects of dividend growth are important to the fund, and it may "at times invest significantly in stocks of technology companies."
Article continues below advertisement
The fund's assets were invested across 134 holdings as of March 2016, five more than a quarter ago. It was managing assets worth $30.7 billion as of March's end. As of the latest complete portfolio available in December, TRBCX's equity holdings included the Priceline Group (PCLN), McKesson (MCK), Lowe's Companies (LOW), Alibaba Group (BABA), and Morgan Stanley (MS). These stocks formed 9.3% of its assets.
Historical portfolios
For this analysis, we'll be considering TRBCX's holdings as of December 2015, as that is the fund's latest available sectoral breakdown. Its holdings post-December reflect the valuation-driven changes to its portfolio, not its actual holdings.
Information technology, consumer discretionary, healthcare, and industrials form the core of TRBCX. The first three make up a combined 78% of the fund's assets, while the fourth is the only other sector commanding more than one-tenth of its portfolio. The fund is not invested in the utilities sector and has a nearly negligible exposure to the telecommunications services sector.
Over the past year, the fund has increased its exposure to stocks from the information technology and consumer discretionary sectors. During the same period, it has reduced its exposure to the energy, healthcare, and materials sectors. According to information available from the fund's web page, its management completely exited the energy sector as of March 2016.
TRBCX's management has left the materials sector untouched. It has neither added nor liquidated stocks from the sector. It has also stuck to most of its holdings from the consumer discretionary and healthcare sectors.
Let's see how has the fund fared across various periods and what contributed to its performance in 1Q16 in the next article.