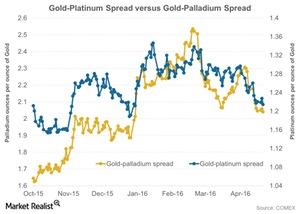 Platinum and Palladium: How Have They Performed?
By Meera Shawn

Updated
Palladium remains a slow mover
This year has brought bright skies for all precious metals. Gold and silver were boosted due to haven bids at the very start of the new year, whereas platinum and palladium were rather slow to pick up. Although platinum and palladium both are also precious metals, haven bids for them are comparatively low. These two metals are heavily used as industrial metals.
Platinum and palladium have risen by 15.9% and 8.4%, respectively, since the beginning of the new year. Although first-quarter returns for palladium were disappointing, it has picked up in the last month. Palladium has risen 7.6% during the last 30 trading days. Palladium rose to $609.70 per ounce on April 26, 2016. Palladium has been comparatively more volatile than its three precious counterparts. Its call implied volatility has stayed close to 30% over the last month.
Platinum has risen 9.5% over the last month and closed at $1,025.4 an ounce on April 26, 2016. Platinum is a comparatively stable metal and has a call implied volatility of 23%.
Article continues below advertisement
Cross-commodity rates
The relative movement in platinum and palladium can also be studied by way of cross-commodity rates. The gold-platinum and gold-palladium spreads measure the number of platinum or palladium ounces it takes to buy a single ounce of gold. Although this spread was widening up until February, it is now narrowing. This suggests that platinum group metals are getting stronger than gold.
The gold-platinum and gold-palladium spreads were at 1.2 and 2, respectively, as of April 26, 2016. The fluctuations in platinum and palladium are followed by funds such as the ETFS Physical Platinum ETF (PPLT) and the ETFS Physical Palladium ETF (PALL). Changes in precious metal prices also impact investments in shares of Goldcorp (GG), New Gold (NGD), and Royal Gold (RGLD).