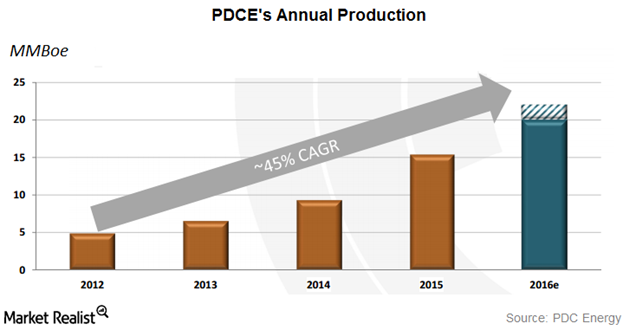 PDC Energy: Production Guidance and Key Management Strategies
By Keisha Bandz

Apr. 28 2016, Published 2:15 p.m. ET
PDC Energy's 2015 production and guidance for fiscal 2016
PDC Energy's (PDCE) total production volumes in 2015 stood at 15.4 MMboe (million barrels of oil equivalent). This represents a ~65% year-over-year growth over 2014. PDCE expects its 2016 production to be between 20 MMboe and 22 MMboe, representing a growth range of 35%–40% year-over-year.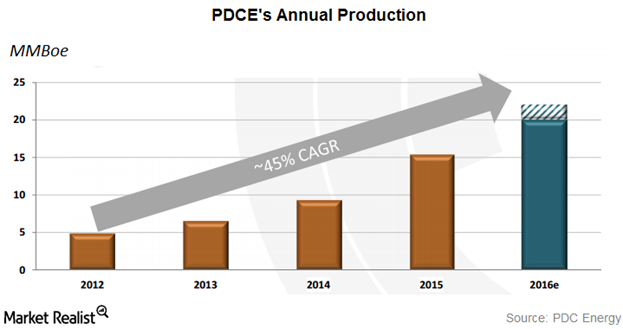 Article continues below advertisement
PDCE's lower cost and capex
PDCE's 2015 earnings were stronger than those of upstream peers due to the company's drilling efficiencies and cost reductions. PDCE reduced its LOE (lease operating expenses) by ~19% year-over-year in 2015.
In comparison with its production costs in 2014, PDCE's 2015 production costs, which include LOE, production taxes, and transportation, gathering, and processing expenses, were ~29% lower per barrel of oil. PDCE noted that this decrease in production costs was primarily due to increased production volumes.
Additionally, PDCE revised its 2016 capex budget downward from the $450–$500 million capex guidance it provided in December 2015 to $420–$450 million. This represents a 20%–25% reduction year-over-year.
Many upstream companies have been reducing their 2016 capex in response to lower energy prices (USO) (UNG). Apache's (APA) 2016 capex budget is 60% lower than its 2015 capex budget, while Hess's (HES) 2016 capex budget is 40% lower than its 2015 capex of $4 billion. Anadarko Petroleum's (APC) 2016 capex is ~50% lower than its 2015 capex. These companies make up ~3% of the Vanguard Energy ETF (VDE).
PDCE's hedge position
PDCE's strong hedge book in 2016 complements its increasing production and reduced capex. Based on the midpoint of its 2016 production guidance, ~60% of the company's 2016 estimated crude oil volumes are hedged at ~$76.29 per barrel and ~67% of its estimated natural gas volumes are hedged at ~ $3.55 per thousand cubic feet.