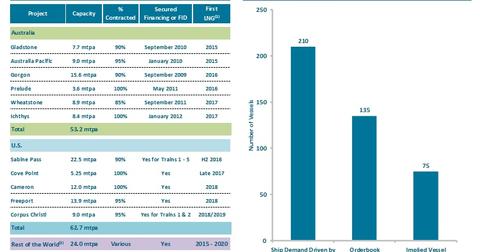 The Past and Future Global LNG Trade: What You Need to Know
By Sue Goodridge

Updated
The LNG trade
With new projects coming online in Asia-Pacific, the global LNG (liquefied natural gas) trade has picked up steam since mid-2015. According to the GIIGNL (International Group of Liquefied Natural Gas Importers), LNG shipments grew 2.5% to 245.2 million tons annually, which equals 32.2 billion cubic feet per day. Imports in Europe, India, and the Middle East rose in 2015 but were offset by lower imports from Japan and Korea. US LNG production rose significantly in 2015, mainly because of shale output.
Article continues below advertisement
Output from shale formations turned the United States into the world's biggest natural gas producer. With this shift, the United States will become a net LNG exporter this year instead of a net importer. According to Bank of America Merrill Lynch, the country will contribute to an 18% increase in global LNG capacity through 2017. According to industry analysts, LNG exports are a key catalyst that will transform the future LNG market.
New LNG projects
Seven new LNG projects are expected to ramp up this year. The significant projects are in Australia, the United States, and Malaysia. The US project, Sabine Pass, has already begun to export. The world's first floating LNG project by a Malaysian oil and gas company is expected to come online in 2016. With new projects coming online, Teekay LNG Partners (TGP) analysts expect the global LNG trade to increase by 25 million tonnes in 2016. This rise would be the biggest annual increase since 2010.