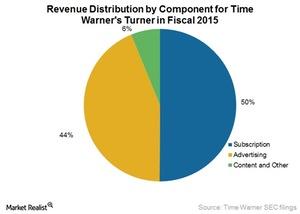 Outlook for Time Warner's Turner Advertising Revenues in Fiscal 2016
By Shirley Pelts

Updated
Reduction in television advertising loads
Many media companies have been talking about a reduction in advertising loads on television, including Time Warner (TWX). At the start of 2016, Time Warner stated that it intended to reduce ad loads on Turner's TNT channel. It also intends to reduce ads on TNT's three new dramas set to premiere this year. The company's truTV channel has already been targeted in the reduction of advertising loads by 50%.
However, other media companies seem to have progressed little on reduction in television ad loads. According to a Broadcasting & Cable report from late this month, citing analyst Todd Juenger from Sanford C. Bernstein, advertising loads on television fell by only 1% in the first quarter of 2016.
Article continues below advertisement
However, Juenger noted that television ad loads were up by 8% on 21st Century Fox's (FOXA) networks in 1Q16, while Viacom's (VIAB) "non-kid networks" decreased its television advertising load by 3% during television primetime in the first quarter. In contrast, The Walt Disney Company's (DIS) Freeform saw a 33% decline in television advertising loads in the first quarter of 2016.
As the above chart indicates, Time Warner's Turner business segment's advertising revenues comprised 44%, or $4.6 billion, of Turner's total revenues of $10.6 billion in fiscal 2015.
Turner's advertising revenues
Time Warner was asked about the progress Turner has made regarding the introduction of advertising products that offer targeted advertising at a Deutsche Bank (DB) investor conference early last month.
Time Warner's chairman and CEO, Jeff Bewkes, stated, "We're basically trying to marry, the power of television, reach and the impact that it has which the digital does not have, with the analytics and targeting of digital. And I think we're the cutting-edge basic cable networks in having and using those methods, putting together packages across those networks we just talked about."
The company also stated that it is targeting 50% of its advertising revenues to come from these advanced advertising products in the next few years.
In fiscal 1Q16, Time Warner expects advertising revenues for Turner to grow in the mid-single digits.
Time Warner makes up 0.33% of the SPDR S&P 500 ETF (SPY). SPY also has an exposure of 2.6% to the Communication Services sector.