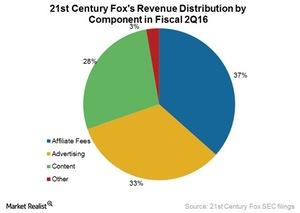 What Is the Outlook for Affiliate Fees for Time Warner's Turner?
By Shirley Pelts

Aug. 18 2020, Updated 5:18 a.m. ET
Affiliate fees for Turner
For media companies, a factor that affects affiliate fees and advertising revenues are program ratings and whether their programming is garnering a majority of viewers. An indication of that came on April 19, 2016, when Multichannel News cited Nielsen that Time Warner's (TWX) TBS had come in at the second place with 1.5 million primetime viewers during the week of April 11–April 17.
In contrast, 21st Century Fox's (FOXA) Fox News Channel cable network had drawn 1.8 million viewers during primetime in the same duration while The Walt Disney Company's (DIS) ESPN was ranked fourth with 1.4 million viewers.
Article continues below advertisement
Early last month, Time Warner also stated at a Deutsche Bank (DB) investor conference regarding its affiliate fees deals, "We have contractual provision for great penetration in the deals and in terms of the momentum of the networks. And that's including absorbing the 1, 1.5, probably not 2, maybe, of the erosion in the big bundle."
The company added, "There is work goes on in the bundle which is tracking for us exactly what we thought. And there is the offset benefit of the new skinnier bundles. So far we've been in all of them. And given the strength of our position to general entertainment network, news, cartoons, kids, sports, we think we're in a great position for any bundles, big or small."
Time Warner stated in its 4Q15 earnings call that it has achieved the rise in affiliate fees in its agreements with the top ten domestic distributors. It expects subscription revenues to be in the low teens in fiscal 1Q16.
Affiliate fees against its peers
As the above chart indicates, affiliate fees made up 37% of 21st Century Fox's total revenues of $7.4 billion. The company stated at its fiscal 2Q16 earnings call that it has not observed "any material change in the distribution requirements or minimum distribution requirements in any of those agreements" in its affiliate agreements with MVPDs (multichannel video programming distributors) like Dish Network (DISH).
21st Century Fox makes up 0.19% of the PowerShares QQQ Trust Series 1 ETF (QQQ). QQQ also holds 4% of the television sector.