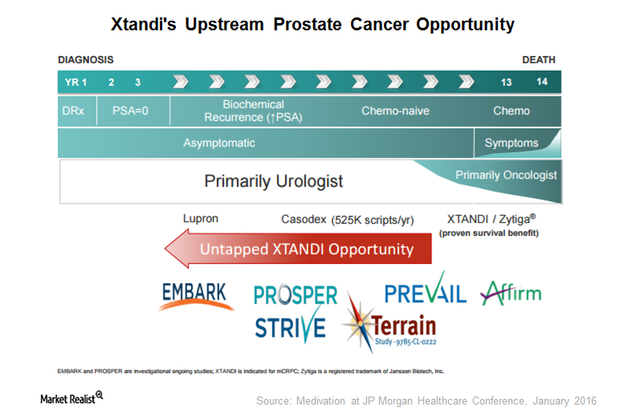 Opportunities For Xtandi, Medivation's Key Drug
By Jillian Dabney

Apr. 28 2016, Updated 3:04 a.m. ET
Xtandi, Medivation's key drug
Enzalutamide, known by its brand name Xtandi, is an androgen receptor inhibitor. It is the only commercialized product in Medivation's (MDVN) portfolio.
In August 2012, Medivation and partner Astellas Pharma received approval from the FDA for treating metastatic castration-resistant prostate cancer (or mCRPC) patients who have previously received docetaxel. In September 2014, both partners received FDA approval for treating mCRPC patients who have not received docetaxel chemotherapy.
Article continues below advertisement
Label expansions for Xtandi
Currently, Xtandi is approved for use in prostate cancer patients who have received chemotherapy, as well as those who haven't. In this particular space, the drug directly competes with Johnson & Johnson's (JNJ) Zytiga.
Xtandi offers a progression-free survival (or PFS) benefit over AstraZeneca's (AZN) Casodex. According to the National Cancer Institute, "The length of time during and after the treatment of a disease, such as cancer, that a patient lives with the disease but it does not get worse. In a clinical trial, measuring the progression-free survival is one way to see how well a new treatment works." Another phase 3 trial is being run as a challenge to Abbvie's (ABBV) Lupron.
Xtandi possesses a considerable untapped opportunity in the form of upstream prostate cancer indications. Medivation is expanding the drug beyond prostate cancer treatment, and it plans to conduct a phase 3 trial for triple negative breast cancer (or TNBC) that would start in the second half of 2016. The company is conducting investigational studies for upstream prostate cancer as well as hepatocellular carcinoma.
In March 2016, Medivation and its partner, Astellas Pharma, noted that it initiated "ARCHES Phase III registrational trial, which will evaluate the efficacy and safety of enzalutamide with androgen deprivation therapy (or ADT) versus placebo with ADT in metastatic hormone-sensitive prostate cancer (or mHSPC) patients."
For diversified exposure to this industry, investors can choose to invest in the SPDR S&P Biotech ETF (XBI), which holds 2.1% of its total portfolio in Medivation.
In the next part of this series, we'll look at Xtandi in greater detail.