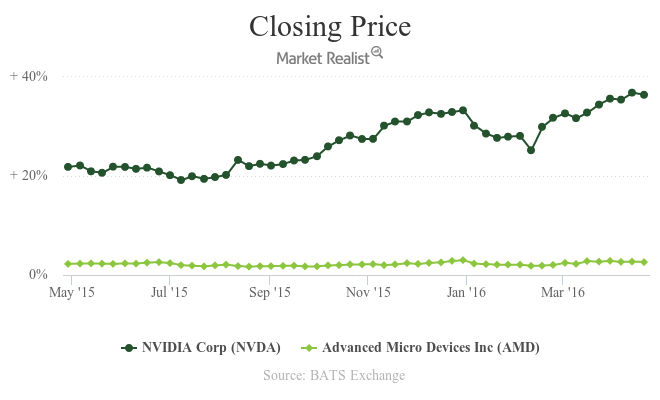 NVIDIA's Stock Outperforms Market in Fiscal 1Q17
NVIDIA's business model
In this series, we've seen that NVIDIA (NVDA) has been an outlier in the semiconductor industry, reporting growth amid slowdown. This can be attributed to its business model, which has exposure to the high-growth gaming, data center, and automotive sectors. This growth is likely to accelerate in the long term as the company taps the future trends of VR (virtual reality), deep learning, and autonomous cars.
[marketrealist-chart id=1260590]
Article continues below advertisement
Stock price movement
NVDA stock is currently trading at $37, which is at the higher end of its 52-week range of $19.09—$37.46. If we look at the fiscal 1Q17 performance of the stock, it rose by 26% between February and April 2016. Meanwhile, the S&P 500 Index rose by 8%, Intel (INTC) rose by 2%, and Qualcomm (QCOM) rose by 15%.
On the other hand, rival Advanced Micro Devices (AMD) rose by 76% during the quarter, with ~50% growth coming on April 22, 2016, after the company released strong fiscal 2Q16 guidance. The iShares Core S&P 500 ETF (IVV) stock has exposure to S&P 500 stocks, including a 0.10% exposure to NVDA.
About NVDA stock
NVIDIA has a market capitalization of $20 billion and a PE (price-to-earnings) ratio of 34.3, which is higher than the industry average of 22.7. There are more growth drivers than growth stoppers for NVIDIA, which justifies its higher PE ratio.
NVIDIA growth catalysts
The expiry of its licensing deal with Intel in March 2017 could hamper NVIDIA's cash flows, but the latter's rich IP (intellectual property) portfolio and new revolutionary technologies, such as the Pascal GPU (graphics processing unit), may attract new licenses.
Increasing competition from AMD could slow its growth in the gaming segment, but its other segments could continue to post strong growth. Moreover, growth in virtual reality could drive up sales for both AMD and NVIDIA, as the former would focus more on VR headsets and the latter more on VR-ready personal computers. The outcome of the AMD-NVDA competition for the VR market will be interesting to see.