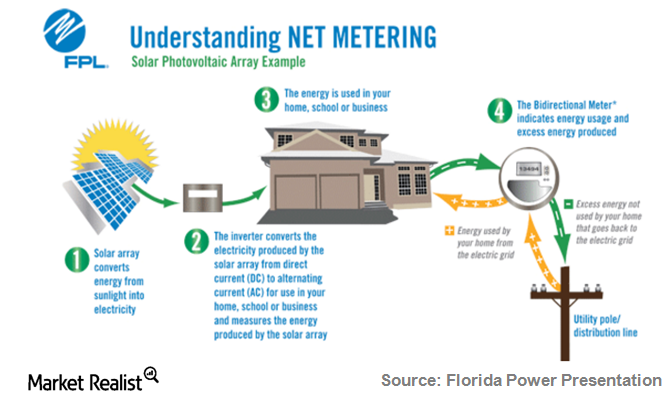 Net Metering Continued to Have Strong Growth in 2015
By Vineet Kulkarni

Apr. 5 2016, Updated 4:39 p.m. ET
Strong growth in net metering capacity additions
The strong run for solar PV (photovoltaic) capacity additions through net metering continued in 2015. An Electric Monthly Update released by the EIA (U.S. Energy Information Administration) stated that solar (TAN) net metering grew by 31% in 2015 compared to the previous year.
The technological advantages and supportive policies helped the net metering capacities. They quadrupled since 2011.
Article continues below advertisement
Net energy metering
In 2015, according to the EIA, 2,235 megawatts of solar PV net metering capacities were installed. Of this, ~75% were setup in the residential sector while the rest were commercial and industrial.
Net energy metering is a billing system that allows customers to generate their own electricity through the distributed generation (on-site) facility built within the usage premises. Common examples of net metering installations are solar panels and wind turbines. Whenever a user generates energy beyond his needs, the extra energy is transmitted to the utility's distribution network.
The net metering facilities are connected to the "retail meter." It runs forward whenever the customer uses the utility company's electricity. On the other hand, the "net meter" runs backward when the customer generates excess electricity. It exports to the electric grid. Net metering fosters usage of renewables in electricity generation. It's also very pocket-friendly for customers. It allows customers to avail credits for electricity generation that they don't use.
Utilities and net metering
With a growing inclination of customers towards distributed generation, mainstream electric utilities (XLU) are also penetrating into the same. Southern Company (SO) is in the process to install 210 megawatts of solar generation capacity through long-term contracts with utility-scale (FXU) and distributed generation-scale projects. Peers like NextEra Energy (NEE) and Duke Energy (DUK) are also tapping growth opportunities in the domain by adding renewables (PBW) to the portfolio.