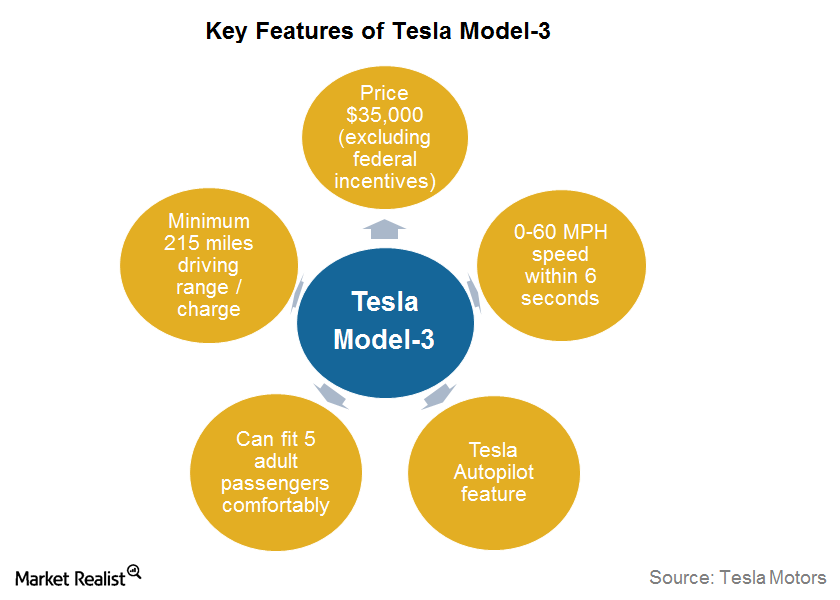 All You Need to Know about the Model 3's Specifications
By Jitendra Parashar

Apr. 4 2016, Published 2:24 p.m. ET
Tesla Model 3
Previously, we discussed how skyrocketing CO2 (carbon dioxide) levels in the atmosphere may push the demand for mass-market electric vehicles in the future.
Tesla Motors' (TSLA) Model 3 is certainly the most awaited mass-market electric vehicle so far in the history of the auto industry.
Article continues below advertisement
Key features and specifications
As anticipated, Tesla Model 3 deliveries will begin toward the end of 2017, and the car will be priced at $35,000. Some of the key features and specifications of the basic version of the Tesla Model 3 will be as follows:
The Model 3 will likely have a minimum driving range of 215 miles in one charge. To achieve this, Tesla will rely on the production of a cheaper, more powerful battery at its Gigafactory.
The car model will be capable of achieving 0–60 miles per hour within 6 seconds.
All versions of the Model 3 will be equipped with Tesla's popular Autopilot hardware. Notably, Tesla Autopilot can be seen as the initial version of cars that can drive with minimal manual input required.
The design of the Model 3 will seat five adult passengers comfortably. For this reason, the company has moved the front seat slightly forward to provide more legroom for backseat passengers.
The car will also have front and rear trunks just as in the Model S and Model X.
The Model 3 will come with the same supercharging capability used in the Model S and Model X.
Target buyers
In the mass-market segment, vehicle operation costs are crucial to a buyer's purchase decision.
Despite the a sharp fall seen in gasoline prices over the last couple of quarters, US vehicle owners still spend a significant amount of money filling their fuel tanks. This is where Tesla could score points over other mainstream car manufacturers (FXD), including Ford (F), General Motors (GM), and Toyota (TM).
Innovation continued
By unveiling the Model 3, Tesla has continued the legacy of innovation that it's known for. While its previous car models, Model S and Model X, are innovative in themselves, Model 3 could become the next big thing for Tesla Motors.
Some specifications of the Model 3, such as its Autopilot function and its 215-mile driving range, set the car apart from its competition. We'll talk about these in the next article of the series.