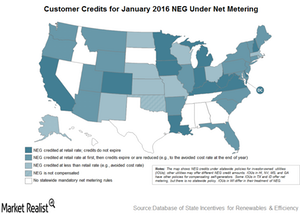 Must Know: Key Risks Involved in Vivint Solar's Business
By Sheldon Krieger

Updated
Regulatory changes
Downstream solar (TAN) players like Sunrun (RUN), Vivint Solar (VSLR), SolarCity (SCTY), and SunPower Corporation (SPWR) depend on a wide variety of state and federal tax credits, incentives, and rebates to expand their business.
Tax credits are crucial for raising low-cost capital through tax equity funds. Moreover, incentives like property tax exemptions, sales tax exemptions, and net metering encourage customers to go solar.
Any changes or uncertainty in regulations could have a significant impact on the sales of Vivint Solar. For instance, the elimination of net metering system in Nevada affected the expansion plans of Vivint Solar and also led to the market exit of its peers Sunrun and SolarCity.
Change in regulations and policies related to rate design could decrease the value of electricity generated from solar panels and reduce the savings for homeowners, which could impact Vivint Solar's sales.
Article continues below advertisement
Cost of capital
The downstream solar industry is a capital-intensive industry. Incumbent players are required to invest huge capital upfront in selling their products and gaining market share. Therefore, any increase in interest rates could have a significant impact on the profit margins of Vivint Solar.
Moreover, Vivint Solar is required to maintain the quality of its assets to raise capital at low cost. The increase in the cost of capital will increase the discount rate at which future cash flows are discounted and reduce the present value of the assets.
Vivint Solar's competition
In addition to its peers, Vivint Solar faces competition from traditional energy companies like Duke Energy (DUK), NextEra Energy (NEE), and Southern Company (SO). Low natural gas and coal prices can result in lower electricity rates from traditional energy companies. Any decrease in residential electricity rates could have a negative impact on services offered by Vivint Solar.
Moreover, diversification of traditional energy companies into solar power generation could decrease the company's revenue from the sale of SRECs (solar renewable energy certificates). Also, Vivint Solar competes with pure play financing companies in acquiring customers to sell its products.
Apart from the above, Vivint Solar is also subject to the credit risks of its customers. As of December 31, 2015, the average FICO (Fair Isaac Corporation) credit score of Vivint Solar's customers stood at 760, which is on par with that of Sunrun's customers' average FICO score.
In the next part of this series, we'll compare Vivint Solar's operational performance with its peers and understand the differentiating factors.