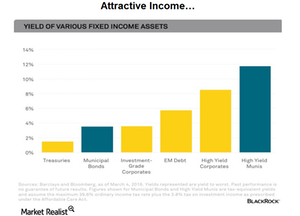 Why Municipal Bonds Offer Decent Income without Excessive Risk
By Peter Hayes

Apr. 19 2016, Published 11:40 a.m. ET
In the third of our five-chart series, Feeling Taxed?, we'll bring the two ideas together with this simple question:
Are you struggling to derive decent income without indecent risk from your investments?
If the answer is "yes," then you know this remains a significant challenge in an environment of still-low rates and a mixed economic backdrop. One perfectly "decent" solution: municipal bonds.
Article continues below advertisement
Market Realist – Municipal bonds offer decent income
The sharp rise in market volatility (IWM)(EFA) has affected investors' returns over the past year, increasing the risk of investing in equities. At the same time, taxes are also eroding investor income. In this scenario, you can follow a prudent investment strategy that aims to generate higher returns and save taxes. Municipal bonds offer the benefit of tax-exempt income as well as higher returns.
Historically, high-yield municipal bond funds have often outperformed corporate bonds. For example, Barclays data showed that non-investment-grade muni bonds returned 1.8% in 2015 compared to -0.8% for US high-yield loans. In contrast, returns from corporate securities was -4.5% while floating-rate notes offered -22%.
Not only did muni bond funds outperform corporate bonds, but they also outperformed equities, especially during volatile times. The iShares National Muni Bond ETF (MUB) provided a 4.0% return last year compared to -1.05% for the S&P 500. Similarly, the iShares Short-Term National AMT-Free Muni Bond ETF (SUB) returned 0.92% in the last year while the iShares California AMT-Free Muni Bond ETF (CMF) offered a 4.1% return.
Plus, high-yield municipal bonds haven't witnessed as many defaults compared to investment-grade corporate bonds, which led to fewer redemptions and boosted demand for munis. So high-yield muni bond funds are often considered less risky than corporate bonds. Data from Moody's showed that 32.4% of corporate securities rated junk defaulted in the last ten years compared to only 7.5% of tax-exempt bonds rated junk.