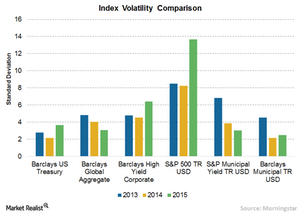 Municipal Bonds Offer a Compelling Counterbalance to Equity Risk
By Peter Hayes

Apr. 19 2016, Published 11:40 a.m. ET
Peter Hayes continues our Feeling Taxed? series with a look at how tax-exempt municipal bonds provide attractive relative income without an unsavory level of risk.
If you've been following our tax-time chart series, you know that municipal bonds offer you the opportunity to keep more of what you earn via an attractive after-tax yield and provide a compelling counterbalance to equity risk.
Article continues below advertisement
Market Realist – Munis counterbalance equities
Public entities often fund many civic projects, such as the construction of schools, hospitals, and highways, by issuing municipal bonds or munis. Investors take on exposure to municipal bonds mainly to protect against stock market (IWM)(EFA) volatility, to lower the risk of default, and to benefit from tax-friendly features.
Municipal bonds (MUB)(SUB) are suitable debt securities for people who want to preserve capital while generating tax-free income. They're available in both taxable and tax-exempt forms. Tax-exempt bonds are more popular because the income they generate is tax-free at the federal level and, in many cases, exempt from state and local income taxes. Often, the after-tax returns from municipal bonds are higher than those of a regular bond or Treasury.
Historically, municipal bonds (CMF) can be immune to market volatility, providing considerable support to a portfolio. In fact, munis could also give you higher returns than most other asset classes when markets are volatile. A the chart above shows, the Barclays Municipal Bond Index was less volatile in 2015 than all other indices.