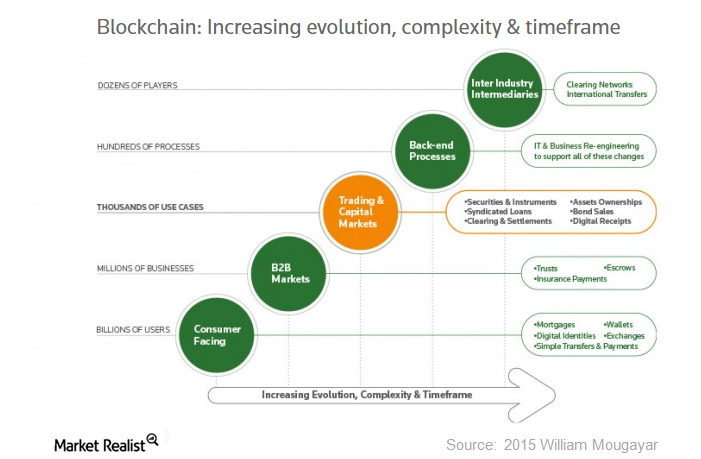 Microsoft Is Not the Only Player Focused on Blockchain Technology
By Anne Shields

Apr. 13 2016, Updated 9:06 a.m. ET
Red Hat announced OpenShift blockchain initiative
So far in this series, we have discussed Microsoft's (MSFT) recent partnership with R3CV and the company's attempts to integrate and advance blockchain technology in its product roadmap.
Marley Gray, director of technology strategy at Microsoft, is hopeful that the company's Azure platform will appeal to future blockchain players, as Azure is built and designed for development and testing of the technology. However, Microsoft is not the only player that is eyeing blockchain technology.
Article continues below advertisement
On April 5, 2016, Red Hat (RHT) announced that financial startups can experiment with blockchain technology on its OpenShift platform. Red Hat announced, "Using OpenShift Dedicated, fintech startups, ISVs, and financial institutions can explore blockchain-based cloud services that use open source technology to develop updated transactional applications that can help streamline business processes on a transparent and more secure platform."
Increased interest and investments by tech players in blockchain technology
BNP Paribas recently announced that it will launch blockchain crowdfunding tools in 2016. In February 2016, IBM (IBM) joined the consortium of banks and tech players such as Intel (INTC), J.P. Morgan, CME Group, and DTCC to promote the Hyperledger project. Hyperledger, a Linux open source project, is a collective effort to accelerate blockchain technology.
IBM's investment made it the sole largest investor of the digital currency platform. IBM announced initiatives in BaaS (blockchain-as-a-service) for developers that are mainly geared toward enterprise usage. Increased interest in building commercial offerings on blockchain technology has blurred the competition in the tech space
Microsoft (MSFT) recently announced a partnership with R3CV, which shows that the lines of competition in the tech space are blurring. The R3CV banking consortium is composed of banks and financial institutions that compete both directly and indirectly with each other. However, the rivalry and allure to build blockchain-based offerings for the financial industry encouraged them to work with each other.
Although strategic partnerships have been beneficial and essential in providing improved offerings, the winner in the blockchain technology space would be the player that can create a commercial business offering with blockchain technology.
You may want to consider investing in the PowerShares QQQ Trust, Series 1 ETF (QQQ) to gain exposure to Microsoft, which makes up 8.4% of QQQ. Investors who would like application software exposure could also consider this ETF. Application software makes up ~28.4% of QQQ.