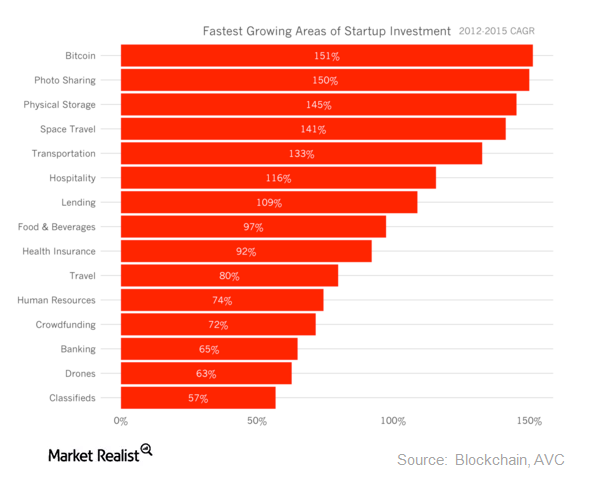 Microsoft Is on Board with Disruptive Blockchain Technology
By Anne Shields

Apr. 11 2016, Updated 11:08 a.m. ET
Blockchain technology
Previously in the series, we briefly discussed Microsoft's (MSFT) partnership with R3CV to promote blockchain technology. Let's look deeper into the technology to get an understanding of why it is being perceived as a hot commodity in the financial world.
Blockchain is the technology that is the foundation of Bitcoin, the world's first decentralized digital currency, also known as cryptocurrency. Cryptocurrency is an encrypted digital currency that works independently of any banks or regulatory authorities.
Blockchain applications are also referred to as "distributed ledger technology." As they are decentralized, they eliminate the need for a centralized database.
Article continues below advertisement
Bitcoin's popularity sparked the interest of the banking and finance sector in blockchain technology. Blockchains are online ledgers that are used to store and record transactions. However, they can store other types of records, which explains the increased interest. Globally, banks share the opinion that blockchain technology can be employed in areas ranging from remittances to securities exchanges. Barclays stated that the technology has "been abstracted to carry any sort of asset which can be represented digitally."
The financial world's interest in blockchain technology
Financial institutions believe that blockchain technology can eliminate inefficiencies currently present in the financial markets while providing enhanced liquidity, transparency, and security. Blockchain technology eliminates the requirement of the intermediary and thus mitigates the risk of human error with full automation.
Blockchain enables anyone to create and complete smart contracts permanently stored in the public ledger. Smart contracts are computer programs that can be cryptographed to perform a transaction once a particular set of conditions are met. Blockchain technology can help banks that must spend significant money, time, and resources on items like trade credit, which is highly paper driven and requires manual work.
JP Morgan (JPM), Goldman Sachs (GS), and Barclays (BCS) have made significant investments in this technology, as we will see in later parts of the series. Microsoft also agrees, which explains its partnership with R3CV.
You may want to consider investing in the PowerShares QQQ Trust, Series 1 ETF (QQQ) to gain exposure to Microsoft, which makes up 8.4% of QQQ. Investors who would like exposure to application software could also consider this ETF. Application software makes up ~28.4% of QQQ.