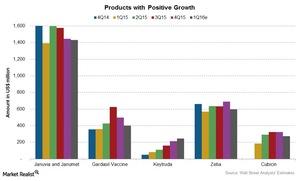 Which Products Will Contribute to MRK's Earnings Growth in 1Q16?
By Mike Benson

Updated
The growth contributors  
Nearly 90% of Merck & Co.'s (MRK) total 1Q16 revenue is expected to come from its Pharmaceuticals segment. However, as all of its products will not report positive growth, it's important to understand the growth contributors.
Major growth is expected from blockbuster drugs Januvia, Janumet, Gardasil vaccine, and the new drug Keytruda.
Article continues below advertisement
Januvia and Janumet  
Januvia and Janumet are two blockbuster drugs from Merck's diabetes franchise. These drugs are used to lower blood sugar level in patients with type 2 diabetes. The combined sales of these drugs is estimated to rise by 2.6% to ~$1.43 billion in 1Q16 compared to $1.39 billion in 1Q15, including the impact of currencies.
The overall contribution of these drugs to Merck's total revenue was ~14.8% in 1Q15. This amount is expected to rise to ~15.1% in 1Q16.
The competitors for Januvia and its combination version Janumet are Galvus from Novartis (NVS) and Onglyza, jointly made by Bristol-Myers Squibb (BMY) and AstraZeneca (AZN).
Gardasil franchise
Merck's Gardasil franchise is its leading vaccines franchise. Gardasil is used for the prevention of certain strains of human papillomavirus (or HPV) that are sexually transmitted.
Gardasil's revenue reported a year-over-year rise of ~39% to $497 million in 4Q15. Revenue is further estimated to rise ~12.4% year-over-year in 1Q16. Gardasil's estimated revenue is $404 million for 1Q16, compared to $359 million in 1Q15. Gardasil 9 accounted for ~80% of total HPV sales in the United States during the last quarter.
Article continues below advertisement
Keytruda  
Keytruda, a prescription medicine classified under Merck's immuno-oncology franchise, is used to treat non-small cell lung cancer as well as melanoma, a type of skin cancer.
Keytruda was launched by Merck in 4Q14, and its global sales in 4Q15 were ~$214 million, a 35% rise over 3Q15. Why is Keytruda expected to be the key growth driver for Merck? We'll find out later in the series.
Zetia
Zetia is a blockbuster drug from Merck's cardiovascular franchise. The drug is used to lower LDL cholesterol levels in the blood. Analysts estimate a rise of 5.4% in Zetia's 1Q16 revenue. Zetia has lost its exclusivity in Canada, and its competitors include Niaspan from AbbVie (ABBV) and Lipitor from Pfizer (PFE).
Cubicin
Cubicin is a drug for the treatment of bacterial infections of the skin and skin structure infections. Analysts estimate a rise of 45% to $273 million in Cubicin's 1Q16 revenue compared to $187 million in 1Q15.
Investors can consider ETFs such as the VanEck Vectors Pharmaceutical ETF (PPH), which holds ~5.4% of its total assets in Merck, or the SPDR Healthcare Select Sector ETF (XLV), which holds 5.6% of its total assets in Merck, in order to divest risk.