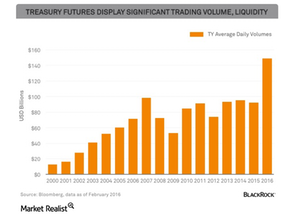 Market Volatility Isn't a Reflection of Bond Market Illiquidity
By Rick Rieder

Apr. 1 2016, Published 4:03 p.m. ET
Article continues below advertisement
Myth #1: Bond market illiquidity
Some have cited the possibility that recent market volatility may be due to reduced levels of bond market liquidity. The evidence doesn't support this claim. Clearly, there are sectors where fixed income liquidity remains challenging (the high yield energy-sector, for instance), and there are always times when some spread markets are less liquid and distressed. However, this sector-specific illiquidity often has to do with idiosyncratic risk specific to those market segments as well as investor risk aversion. It doesn't mean there's an issue with liquidity in bond markets overall.
This is evident when you look at average daily trading volumes (or ADV) for several significant segments of the U.S. bond market, a decent proxy for overall liquidity. Trading volumes for many of these segments seem to signal very good liquidity. For instance, the ADV of 10-Year Treasury futures contracts has accelerated to roughly $149 billion in 2016, 60 percent greater than last year's average, as the chart below shows.
Article continues below advertisement
Meanwhile, according to Credit Suisse data, the mortgage market recently witnessed an ADV of $48 billion in February, the highest level in more than a year. Even the cash-traded corporate credit markets, which can be an area of liquidity challenge, saw ADVs improve meaningfully in February. Of course, liquidity is always a concern, and there are areas of stress in markets, but overall market volatility isn't a reflection of generalized bond market liquidity trouble.
Market Realist – Trading volumes signal very good liquidity
The average trading volume of U.S. Treasuries (SHY) (IEF) increased by 5.5% in January 2016 to $541.5 billion over the same month in the previous year. The trading volume increased again in February by 3% YoY (year-over-year) to $573.8 billion. Year-to-date, the Treasuries trading volume has increased by 1.1% over the same period of the previous year. Similarly, the average daily trading volume in corporate bonds (AGG) (LQD) increased 8% YoY in January 2016 to $30.8 billion. The trading volume increased further by 0.1% in February to $31.6 billion.
US corporate bond (TIP) issuance reached its highest mark of $1.5 trillion in 2015 following a record $1.47 trillion in 2014. This suggests that liquidity hasn't really deteriorated in some of the major segments of the bond market. Other direct liquidity measures such as bid-ask spreads and order book depth also suggest sufficient liquidity in the system.
Tobias Adrian, Michael Fleming, Daniel Stackman, and Erik Vogt, economists at the Federal Reserve Bank of New York, wrote in their article, "The price-based liquidity measures — bid-ask spreads and price impact — are very low by historical standards, indicating ample liquidity in corporate bond markets."
In the next part of the series, we'll look at the impact of oil price movements on the stock markets.