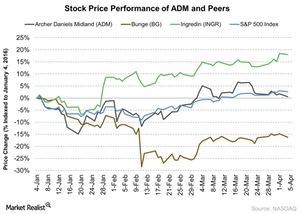 What Made ADM Decide to Sell Its Brazilian Operation?
Sale of the ethanol plant
In order to maximize shareholder value, Archer Daniels Midland Company (ADM) has decided that its Brazilian ethanol plant won't be able to fulfill its long-term returns objective.
On March 31, 2016, ADM entered into an agreement with JFLim Participações to sell its sugarcane ethanol operations in Limeira do Oeste in the Brazilian state of Minas Gerais. ADM spokeswoman Jackie Anderson mentioned that JFLim is a holding company focused on cane, sugar, and ethanol.
Article continues below advertisement
Effect on stock price
The announcement was made after the market closed on March 31, 2016. The news didn't have much of an effect on ADM's stock price. The stock rose 0.44% to $36.47 on April 1, compared to its price of $36.31 on March 31.
So far in 2016, ADM has risen ~1% as of April 4. The stock fell ~9% after ADM reported a disappointing 4Q15. Its earnings and revenue took hard hits of 39% and 21% year-over-year.
ADM fell close to 30% in 2015, aided by negative earnings growth and weaker sales in most of its operating segments. ADM closed at $36.04 on April 4. It was trading 1.6% above its 100-day moving average, 2.5% above its 50-day moving average, and 2.1% below its 20-day moving average.
What's in the deal?
ADM has been in the process of selling its plant for the last four years. This deal is now expected to close in the second quarter of 2016. No deal price has been decided yet.
The affected operations include a sugarcane plantation and an ethanol distillery, which are capable of crushing up to 1.5 million tons of sugarcane and producing 37,000 gallons of ethanol per year, respectively. The plantation and the plant have a combined total of around 650 employees.
Peers' stock performance
So far in 2016, ADM's peers Ingredion (INGR) and Pinnacle Foods (PF) have risen ~18% and 7%, respectively, while Bunge (BG) has fallen 16% as of April 4. The stocks closed at $109.54, $45.37, and $55.97, respectively.
The VanEck Vectors Agribusiness ETF (MOO) invests 6.4% of its holdings in ADM. It also invests 3.0% in Bunge. On April 4, the ETF closed at $46.21. It has risen ~1% year-to-date. The FlexShares Morningstar Global Upstream Natural Resources ETF (GUNR) invests 3.4% in ADM.