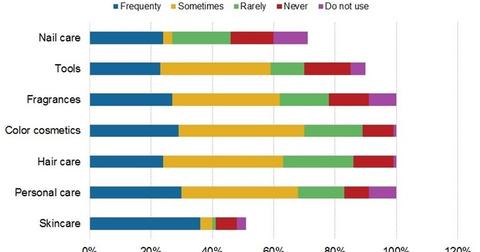 The Lowdown on Colgate's Online Initiatives in Personal and Home Care
By Penny Morgan

Updated
Personal care online advertisement
Apart from Facebook and mobile phones, Colgate-Palmolive (CL) also engages in online video advertisements. In Brazil, 70% of women are in the range of 18–49 years old, and Colgate has a lower CPM (cost per thousand) than TV for this group—60% of the cost.
The company's Protex antibacterial brand introduced an online advertisement aimed at conveying the following message to mothers: "Let your children get dirty, and we'll take care of their health." This video had a very strong engagement which was four times higher than average. This helped gain market share in Brazil in personal care. The share continued to grow from 26.4% to 29.5% in the region.
Article continues below advertisement
Homecare website
With home care, Colgate has a website that houses all three home care brands including the following:
Suavitel fabric softener
Fabuloso fragrant cleaner
Axion dishwashing liquid
The intention is to provide one-stop-shopping facilities, and to provide digital home solutions to Millennial moms. The site also provides quick recipes, cleaning tips, and new product information online. The company also shows how to take care of big kitchen messes, such as stuck-on grease or spilled milk on the stove, online.
Popularity of e-commerce
The growing popularity of e-commerce has several counter recessionary characteristics, such as low operational costs. In addition, mobile phones and tablets are often the devices first-accessed for Internet use. Procter & Gamble (PG), Clorox (CLX), and Unilever (UL) are thus stepping up their digital initiatives as well, and so it appears that competition will come down to the battle for the heart, in addition to how easily each company can furnish useful information to the digital user.
CL accounted for 0.4% of the iShares S&P 500 Growth ETF (IVW) as of March 31, 2016. Continue to the next part for a look at Colgate's approach to consumer engagement and brand penetration.