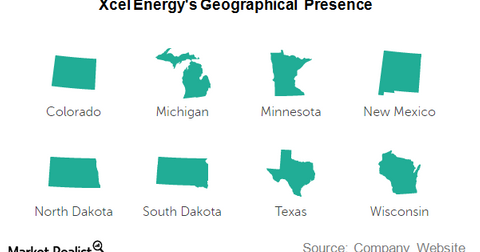 A Look at Xcel Energy's Geographical Presence and Operations
By Vineet Kulkarni

Updated
Xcel Energy aims to improve earnings
Xcel Energy (XEL) is one of the largest regulated utility holding companies in the United States. It's aiming to improve earnings by reducing its regulatory lag. In this series, we'll look at Xcel Energy's historical performance and see whether it's poised for growth over the next few years.
Utilities (VPU) have seen a strong revival so far this year after faltering last year. According to rating agencies and industry veterans, regulated utilities, in particular, have a better chance of growth due to their stable business models. Xcel Energy is a utility holding company that operates exclusively regulated utilities and has both electric and natural gas distribution segments.
Article continues below advertisement
Large geographical presence
Xcel Energy has a diversified geographical presence, as you can see in the above graphic. But it has a very large exposure in Colorado and Minnesota. It derives nearly 80% of its earnings from these states. It operates comparatively smaller utilities in the other states, which account for 10%–15% of its consolidated earnings.
Xcel Energy operates with a combined energy portfolio of electric and gas. Its electric segment accounts for nearly 85% of its total earnings, while the rest is from its natural gas operations. It serves approximately 5 million customers.
Xcel has a smaller presence in Michigan. DTE Energy (DTE) and CMS Energy (CMS) are the dominant operators there. In Texas, American Electric Power (AEP) has a controlling position over Xcel.
Let's begin by seeing what Xcel Energy's technical indicators suggest. We'll also see if there's any upside left after its stellar rally.