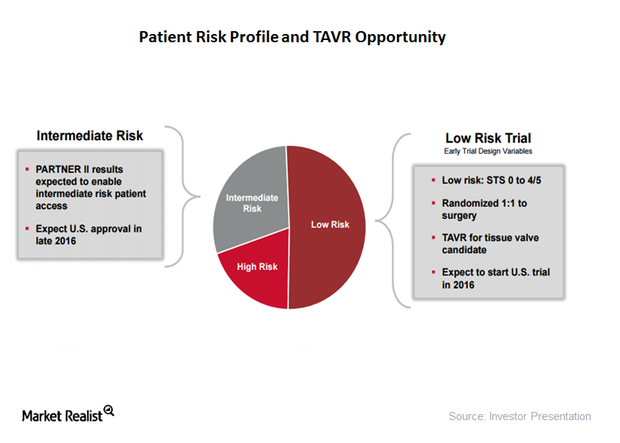 A Look at Edwards Lifesciences' Future Opportunities
By Sarah Collins

Apr. 14 2016, Published 9:55 a.m. ET
Overview
On April 3, 2016, at the annual meeting of the American College of Cardiology, Edwards Lifesciences (EW) announced, "New data on patients at intermediate risk for open-heart surgery demonstrated that transcatheter aortic valve replacement (or TAVR) with the SAPIEN 3 valve was superior to surgery at one year on a composite primary endpoint of mortality, stroke and moderate or severe aortic regurgitation. In addition, the SAPIEN 3 valve demonstrated clinical superiority at one year on individual assessments of all-cause mortality and of stroke."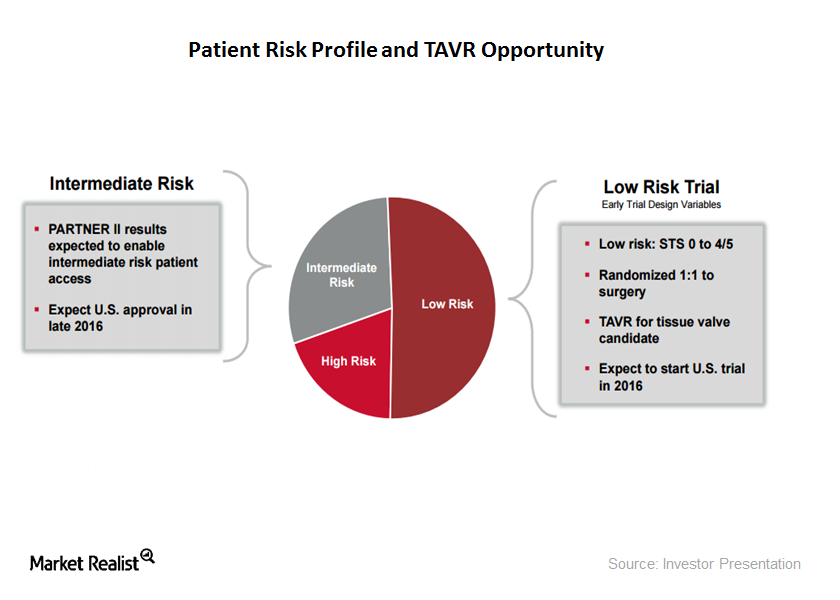 Article continues below advertisement
Partner II trials
In 2011, Edwards Lifesciences initiated clinical trials for the evaluation of the effectiveness of the Sapien XT and Sapien 3 THVs (transcatheter heart valves)[1. Transcatheter heart valves are the artificial replacement valves implanted in the patient's body through a less invasive technology via a catheter without the need to open the chest. The technology is called TAVR (transcatheter aortic valve replacement).] for the treatment of patients suffering from severe AS (aortic stenosis). Aortic stenosis is a condition in which blood flow is restricted due to the narrowing of the opening of the aortic valve.
As per the results of the Sapien XT TAVR (transcatheter aortic valve replacement) clinical trials, performed on 2,032 patients across the United States and Canada, the mortality and stroke rate for Sapien XT TAVR implant patients was 19.3% compared to 21.1% for open-heart surgery patients.
If we look at the TAVR trial results of Sapien 3, which was performed on 1,078 patients, the mortality and stroke rate for Sapien 3 TAVR patients was 2% compared to 8% for surgery patients. Moreover, TAVR is expected to shorten the length of hospital and intensive care unit stays, thus enabling low-cost care.
Article continues below advertisement
Competition
One of Edwards Lifesciences' major competitors, Medtronic (MDT), also released the results of its three-year clinical trials for its CoreValve TAVR for high-risk AS patients. The results were found to favor the CoreValve TAVR system over open-heart surgery. Medtronic currently lags behind Edwards Lifesciences in terms of TAVR market share, but it's positioned as a very strong competitor.
In February 2016, Medtronic also initiated a trial for the evaluation of CoreValve TAVR for intermediate-risk patients. The results are expected to be released next year.
After the intermediate-risk trial results are out, Medtronic is further expected to conduct trials for the treatment of low-risk patients through the TAVR procedure. Edwards Lifesciences has already started such trials.
St. Jude Medical (STJ) and Boston Scientific (BSX) are other competitors in the TAVR market. Investors can invest in the PowerShares Dynamic Market ETF (PWC), which has ~2.7% of its total holdings in Edwards Lifesciences.
Opportunities
Currently, Sapien 3 and Sapien XT are approved by the FDA to be used in high-risk patients only. High-risk patients constitute only 10%–15% of the total market. Around 35%–40% of the patient population consists of intermediate-risk patients.
With FDA approval for its Sapien valves for the treatment of intermediate-risk patients expected in the later part of 2016, Edwards Lifesciences is expected to witness significant growth and profitability. Edwards Lifesciences has also started trials for Sapien TAVR technology for low-risk patients, who constitute around 50% of the total market.