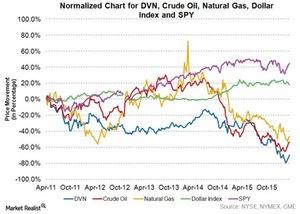 What Are the Key Drivers for Devon Energy's Stock?
Identifying DVN's key drivers
In this final part, we'll study Devon Energy's (DVN) stock price movement with respect to energy prices, the US dollar index, and the broader market.
As seen in the above chart, Devon Energy's stock price was in an uptrend from December 2012 to June 2014, when NYMEX West Texas Intermediate crude oil (USO) prices were also in an uptrend. NYMEX WTI crude oil started its fall in June 2014, and that's when Devon Energy's stock price peaked. Since then, both NYMEX WTI crude oil and DVN have been in a downtrend.
Clearly, crude oil is a key driver behind the movements in Devon Energy's stock price. Since their peaks in June 2014, WTI crude oil and DVN have fallen ~65%, and ~64%, respectively.
Upstream companies Southwestern Energy (SWN), ConocoPhillips (COP), and Diamondback Energy (FANG) have also fallen ~84%, ~49%, and ~15%, respectively, from their respective peaks during the same period.
Article continues below advertisement
The effect of a stronger dollar
As seen in the above chart, there is an inverse relationship between Devon Energy's stock price and the US dollar index's movements. A stronger dollar weakens energy prices, which affects DVN's earnings.
Comparison to the broader market
In 2016, DVN has underperformed the S&P 500 ETF (SPY). It has fallen ~12%, whereas SPY has remained nearly flat during the same period.
In conclusion
Devon Energy has good quality oil and gas reserves with low-cost production capacity. However, DVN has a relatively leveraged balance sheet. Also, it has no adequate derivative coverage for 2016. In addition to this, unfavorable energy prices prevail.
Given the fact that energy prices are still in a downtrend, if they fall further, DVN will be at great risk of steep falls in its earnings.