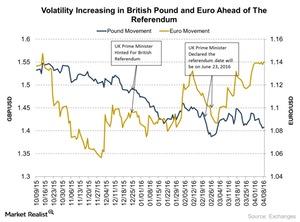 Jared Dillian Says a Brexit Could Boost the Pound: Here's Why?
By Sarah Sands

Apr. 30 2016, Updated 1:53 p.m. ET
A Brexit could strengthen the pound
On February 22, 2016, United Kingdom (EWU) Prime Minister David Cameron announced that the Brexit referendum would be held on June 23, 2016. Cameron had hinted at the British referendum on December 18, 2015. Since that time, volatility has increased not only in the British pound but also in the euro. Investors are expecting the pound will weaken if Britain makes its exit from the European Union (VGK) (HEDJ) (FEZ). However, Jared Dillian of Mauldin Economics explains why the pound could rise.
Article continues below advertisement
Why the pound could rise
Everyone expects that the Bank of England would have to ease its monetary policy to help its economy if Britain exits the European Union. Easing its monetary policy would weaken the pound against the US dollar (UUP) (USDU) and other currencies.
However, Dillian says that in the last six months everyone has been shorting the pound on fear of a Brexit, and they will likely continue to do so until the referendum takes place. When the referendum is over, everyone will have a short position. To cover their position, they will take a long position, which will strengthen the pound. He also mentioned that whatever the likely result is, he will take a long position on the pound a week before the referendum. Read Why the Upcoming Brexit Referendum Is Causing More Volatility to learn more about the upcoming British referendum.
In the next article in this series, we'll analyze Jared Dillian's portfolio management strategies.