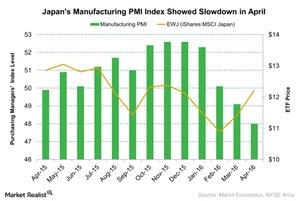 Why Japan's Manufacturing Sector Slowed Down in April
By Sarah Sands

Updated
Japan's manufacturing PMI
According to a report published by Markit Economics, Japan's manufacturing PMI (purchasing managers' index) fell to 48.0 in April as compared to 49.1 in March. This was the second straight month of contraction in the manufacturing sector, as a level below 50 indicates a slowdown in manufacturing activity. The fall in Japan's (EWJ) (DXJ) (HEWJ) manufacturing PMI was mainly due to the fall in production output and contractions in new export orders. The fall was also triggered by the two earthquakes on the island of Kyushu, which is one of Japan's key manufacturing regions.
Article continues below advertisement
Why the concerns over Japan are rising
The BoJ (Bank of Japan) extended its QE (quantitative easing) program in its recent monetary policy meeting on January 29, 2016. The BoJ's QE program, in which the central bank will buy 80 trillion yen, or $733 billion, in government bonds (GOVT) each year to spur inflation and growth in the economy, has been effective since October 31, 2014. However, inflation is not showing any improvement to meet the BoJ's target of 2%. Currently, the inflation level is at 0.3%.
Consumer spending is also needed to revive growth and increase domestic demand in the economy. Weak global (VTI) (VEU) demand is hampering Japan's exports.
Another major problem in Japan is a baby crisis, or the shortage of new infants being born. Japan's population is aging, which is driving the real estate sector in the United States (SPXL) (QQQ). As Japan's population is aging, Japanese insurance companies need to invest most of their capital to provide payouts to the aging population. As the yields on many Japanese assets are low, insurance companies are investing in US real estate, which may provide solid returns. Aging populations in both Japan and the Eurozone (FEZ) (HEDJ) (VGK) are hampering growth.