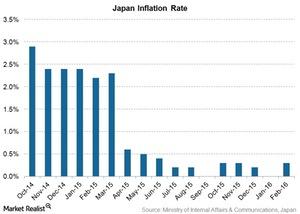 Is Japan at the Tipping Point of Quantitative Easing?
By Surbhi Jain

Apr. 12 2016, Updated 1:08 p.m. ET
Japan's QE program
Japan's quantitative easing (or QE) program requires the BoJ (Bank of Japan) to buy 80 trillion yen (or $733 billion) in government bonds each year. The bond-buying is, in effect, an attempt to spur inflation in the economy by infusing more money into the system.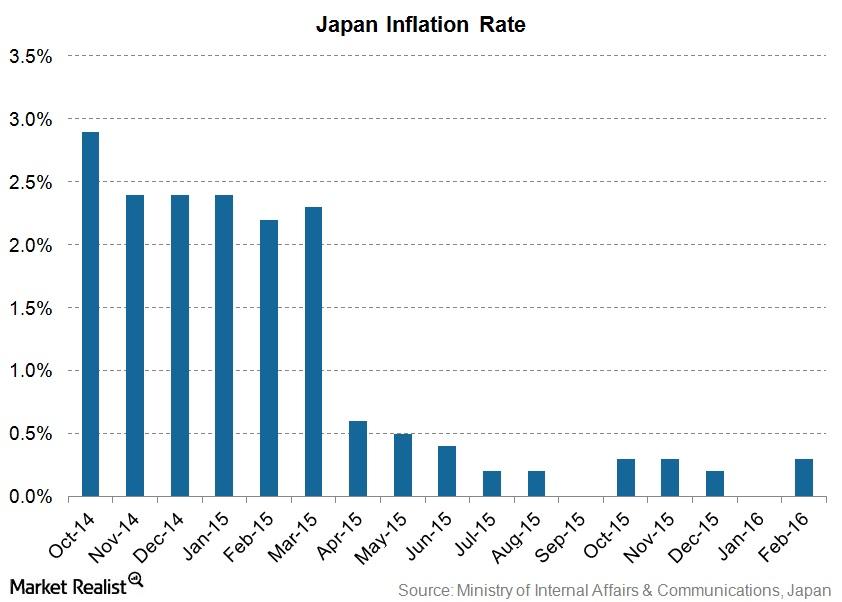 Article continues below advertisement
Is quantitative easing working in Japan?
The effect of Japan's QE program can be viewed in the following two perspectives:
Japan's quantitative easing program of buying 80 trillion yen worth of government bonds (GOVT) per year has been in effect since October 31, 2014. However, inflation in the economy is still at near zero levels. In fact, it has slid from about 2.5% in late 2014 to 0.3% currently. Quantitative easing isn't bringing about the desired effect in the economy.
The BoJ is supposed to buy government bonds as part of Japan's (EWJ) QE reform. But the BoJ is running short of counterparties to which it can sell these bonds. Holders of existing JGBs (Japanese government bonds) are unwilling to sell amid the global (VTI) turmoil and a dearth of safe assets to hold on to. New bond issuances planned by the Ministry of Finance of Japan would amount to just about half the amount the BoJ needs to buy.
The BoJ may soon be forced to taper its bond purchase program due to technical constraints. The central bank seems to have reached the limit to which it can exercise QE in the economy. Quantitative easing certainly seems to be at a tipping point in this developed market (EFA) (VEA).
In the final part of our series, we'll let you decide if you should hedge your Japanese equity exposure or not.