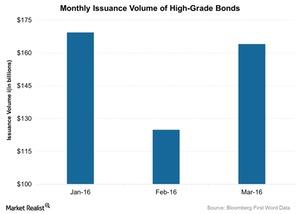 January Saw the Highest Issuance of Investment-Grade Bonds
By Lynn Noah

Updated
Deals and volumes of investment-grade corporate bonds
Investment-grade corporate bonds worth $458.3 billion were issued in the primary market in the first quarter ended March 31, 2016. This was a rise of 2% compared to 1Q15. A total of 250 issuers issued high-grade bonds in 423 tranches.
Issuances by high-grade corporates form part of mutual funds such as the T. Rowe Price New Income Fund (PRCIX) and the Prudential Total Return Bond Fund Class A (PDBAX). ETFs such as the iShares 1-3 Year Treasury Bond ETF (SHY) and the iShares 7-10 Year Treasury Bond ETF (IEF) also invest in high-grade corporate bonds.
Article continues below advertisement
Monthly issuance
January saw the highest issuance of 1Q16 at $169.4 billion. The first two weeks of 2016 saw more than $40 billion worth of volume. Issuance slowed at the end of January due to the start of earnings season and volatile market conditions.
Anheuser-Busch InBev (BUD) issued high-grade bonds worth $46.0 billion on January 13. This was its second-largest high-grade bond issuance on record.
February saw the lowest issuance of 1Q16 at $124.9 billion due to shaky market conditions. Subdued sentiment saw the Market keep issuance light through the first half of February. 90% of monthly volume was priced in during the last two weeks of February, once the market had stabilized after earnings were reported.
Apple (AAPL) and ExxonMobil (XOM) issued high-grade bonds worth $12 billion each in the last two weeks of February.
March's issuance stood at $164.1 billion on rising momentum in the primary bond market. The first three weeks of March saw deals worth more than $40 billion priced. The last two weeks of March saw a slowdown in issuances due to the Easter long weekend and month and quarter ends.
Berkshire Hathaway (BRK.A) and its wholly-owned finance subsidiary Berkshire Hathaway Finance along with Newell Rubbermaid (NWL) each issued $8 billion on March 8 and March 18, respectively.
In the next article, we'll look at the how investment-grade bonds have fared in terms of quality and maturity.