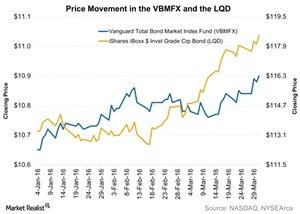 Investment-Grade Bond Yields Fell on the Fed's Dovish Outlook
By Lynn Noah

Updated
Investment-grade bond yields fell
Investment-grade bond yields fell in the first quarter ended March 31, 2016. Janet Yellen, chair of the Federal Reserve, released a dovish statement on the interest rate hike and reiterated that the Fed would proceed cautiously, despite strengthening domestic economic data.
Yellen also pointed out that domestic inflation remains below the target inflation of 2%, which is a key concern for the Fed in normalizing interest rates. The Fed is also concerned about the global economy and plunging oil prices.
Even Jeffrey Gundlach, founder of Doubleline Capital, said that an interest rate hike by the Fed in April would be "inconceivable" after the Federal Reserve bank of Atlanta's predicted GDP growth of 0.6% in the first quarter of 2016, compared to an earlier estimate of 1.4%.
With the persistent fall in investment-grade bond yields, high-grade bonds offer an attractive investment opportunity to foreign investors, mainly due to negative interest rates in Japan and Europe.
Article continues below advertisement
Economic data
Non-farm payrolls rose 215,000 in March 2016, indicating that the labor market was strengthening. The rise in consumer spending and the strong housing market have led to job gains in the retail and construction sectors.
The unemployment rate changed very little at 5.0% in March. Wages rose last month, with average hourly earnings rising 0.3%. This lifted the year-over-year earnings rise to 2.3% from 2.2% in February.
The Institute for Supply Management manufacturing index rose to 51.8 in March. For the first time since August 2015, the index was above 50. It was at 49.5 in February. The data indicates that the manufacturing sector is gaining strength even after a strong dollar and sluggish demand abroad.
The US Federal Reserve is mandated by Congress to maintain the level of PCE (personal consumption expenditure) inflation at 2% in the long term. Core PCE, which excludes food and fuel prices, rose 1.7% year-over-year (or YoY) in February.
Meanwhile, the PCE price index rose 1.0% YoY in February, down from 1.2% in previous month. PCE inflation has been below the target level due to the fall in crude oil prices, which impacted energy companies such as ExxonMobil (XOM), ConocoPhillips (COP), Chevron (CVX), and Royal Dutch Shell (RDS.A).
The oil price fall is the primary reason for the fall in PCE inflation. However, the index started picking up in November 2015, following a rebound in oil prices and better domestic economic data.
Article continues below advertisement
Yield movement and investment impact
Corporate bond yields as measured by the Bank of America Merrill Lynch US Corporate Master Effective Yield fell by 47 basis points from the previous quarter and ended up at 3.2% on March 31, 2016.
The Vanguard Total Bond Market Index Fund Investor Class (VBMFX) provides broad exposure to US investment-grade bonds. VBMFX invests in the investment-grade corporate bonds of companies such as Apple (AAPL), Walmart (WMT), Bank of America (BAC), AT&T (T), and Oracle (ORCL). VBMFX rose by 3.2% quarter-over-quarter.
Similarly, the iShares iBoxx $ Investment Grade Corporate Bond ETF (LQD) provides exposure to US investment-grade corporate bonds. Debt issued by companies such as Verizon (VZ), Goldman Sachs (GS), and General Electric (GE) is among the major holdings of LQD. Due to a fall in yields, LQD rose by 4.5% in 1Q16.
In this series, we'll look at investment-grade corporate debt issuances for the week ended March 24, 2016, in detail. But first, let's take a quick look at how yields and spreads fared in 1Q16.