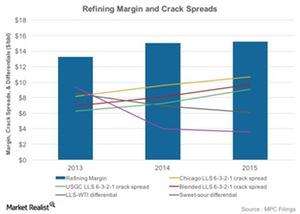 Inside the Major Indicators of Marathon Petroleum's Refining Margin
By Maitali Ramkumar

Apr. 7 2016, Updated 4:07 p.m. ET
MPC's refining segment
Marathon Petroleum (MPC) has three segments:
Refining
Marketing (through Speedway)
Midstream
In this part, we'll discuss the refining segment, a major contributor to MPC's operating income.
MPC operates through seven refineries, all located on the USGC (US Gulf Coast) and in the Midwest, with a total refining capacity of 1.8 MMbpd (million barrels per day). Exxon Mobil (XOM), Chevron Corporation (CVX), and BP (BP) have 5.2 MMbpd, 1.8 MMbpd, and 2 MMbpd in refining capacities, respectively. For exposure to refining sector stocks, you might consider the Vanguard Energy ETF (VDE), which has ~10% exposure to the sector.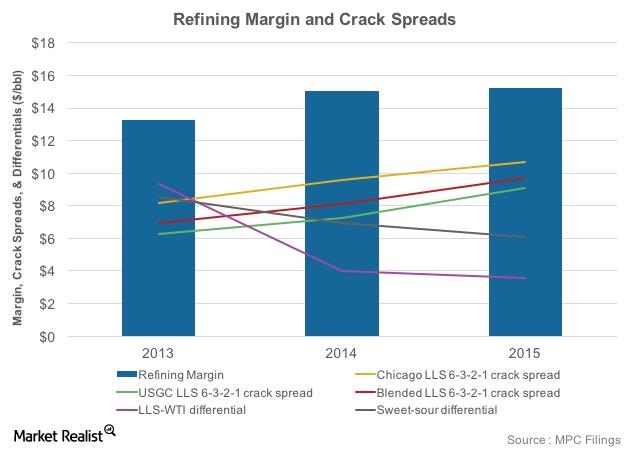 Article continues below advertisement
MPC's refining margin indicators
MPC's income from refining operations is mainly dependent on the refining margin and crack spread. MPC's refined products and operations closely resemble the Chicago LLS (Light Louisiana Sweet) 6-3-2-1 crack spread and the USGC LLS 6-3-2-1 crack spread. So MPC calculates a blended LLS 6-3-2-1 crack spread, which is an average of the Chicago LLS and the USGC LLS crack spread, weighted for regional refining capacity.
MPC can also process a high amount of sour crude oil in its refineries, which can be purchased at a discount to sweet crude. This means that the higher the sweet-sour differential, the better it is for MPC. Similarly, the greater the LLS-WTI differential, the healthier it is for MPC.
Impact of crack spread and differentials on refining income
According to MPC, a change of one dollar per barrel in LLS crack spread affects the company's annual net income by $450 million. Similarly, a change of one dollar per barrel in sweet-sour and LLS-WTI affects income by $220 million and $90 million, respectively. Tracking these indicators can thus clue us in to the MPC's expected income in the near term.
In 2015, MPC's refining margin rose by $0.2 per barrel over 2014 to $15.3 per barrel. This was led by the widening of blended LLS crack spread by $1.6 per barrel over 2014 to $9.7 per barrel in 2015. However, this was partially offset by the narrowing LLS-WTI differential (by $0.4 per barrel) and the narrowing sweet-sour differential (by $0.9 per barrel) as compared to 2014.
Keep reading for a segmental analysis of Marathon Petroleum.