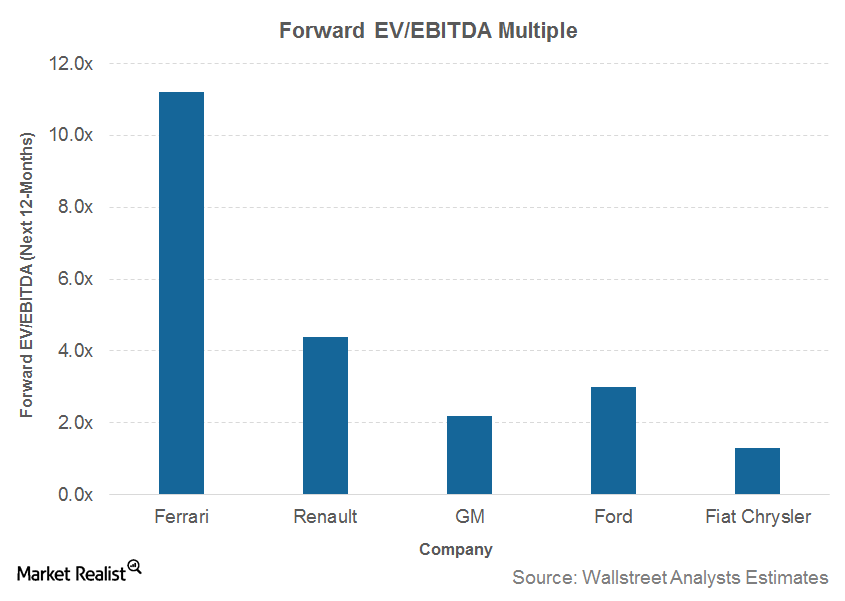 Inside Fiat Chrysler's Valuation—Ahead of 1Q16 Results
By Jitendra Parashar

Nov. 20 2020, Updated 3:06 p.m. ET
Using valuation multiples
Valuation multiples are widely used in the auto industry to compare different companies. It's important to understand that this comparison can only be made between companies that are similar in business, size, or financials. In this way, the valuation multiple of Fiat Chrysler Automobiles (FACU) can be compared with peers like Ford Motor Company (F) and General Motors (GM).
Article continues below advertisement
FCAU's valuation multiples
As of April 14, 2016, the company's forward EV-to-EBITDA (enterprise value to earnings before interest, tax, depreciation, and amortization) multiple is 1.3x, which is much lower than its peers. By comparison, GM's and Ford's forward EV-to-EBITDA multiples are 2.2x and 3.0x. (Note that EV is the market value of equity and debt less cash and cash equivalents, and the EV-to-EBITDA multiple values the worth of the entire company and not just the equity portion.)
On the other hand, FCAU's forward PE (price-to-earnings) multiple is 4.8x—also lower than GM's and Ford's forward PE multiples of 5.5x and 6.6x, respectively. The valuation multiples of Toyota (TM) are typically much higher than those of other major US automakers (VCR). This is partly because Toyota has a strong presence in the premium vehicle segment, which yields higher margins than the mass-marketed vehicle segments.
Article continues below advertisement
Risk factors affecting FCAU's valuation
As noted earlier in this series, the company has high debt levels. Currently, the company also has plans to expand its presence in the luxury car segment in the near term, which could be a tough bet for the already debt-burdened company. This increases the company's risk profile and negatively affects its future growth estimates. This could be a reason why Fiat Chrysler has lower valuation multiples.
In recent years, the company has been reiterating its plans to boost its profit margins and make its average transaction price comparable with that of General Motors and Ford. Analyst estimates project some improvement in Fiat Chrysler's profit margin in 2016 and 2017. This could imply that the market may have already absorbed the impact of such steps into the company's valuations. But any delay in implementation of margins expansion plans in the coming quarters may lower these estimates and drive its valuation multiples even lower.
Continue to the next and final part for a discussion of key technical price levels for Fiat Chrysler.