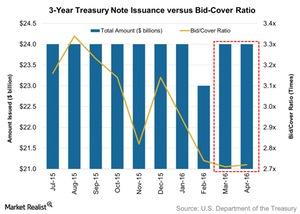 Indirect Bidders Participated in the 3-Year T-Notes Auction
Three-year T-notes
The U.S. Department of the Treasury holds monthly auctions of three-year Treasury notes or T-notes. The yield on three-year T-notes is related to movements in the federal funds rate. Therefore, it attracts a lot of attention from stock and bond market participants.
Mutual funds such as the MFS Government Securities Fund – Class A (MFGSX) and the Prudential Government Income Fund – Class A (PGVAX) provide exposure to three-year T-notes. ETFs like the iShares 1-3 Years Treasury Bond Fund (SHY) invest in three-year T-notes.
Article continues below advertisement
Key takeaways
The auction was held on April 12.
The auction size was set at $24 billion—the same as the previous auction.
The coupon rate came in at 0.88%—lower compared to 1.0% in March's auction.
The high yield for March's auction fell and came in at 0.89%—compared to 1.0% in the March auction.
The bid-to-cover ratio rose by 0.4% to 2.72x in April's auction. The ratio depicts the overall demand for the auction.
Yield analysis
The yield on three-year T-notes rose by 5 basis points in the secondary market after the auction from 0.85% on April 11 to 0.90% on April 12.
Demand analysis
The fundamental market demand for three-year T-notes rose in the April auction. Total competitive bids (indirect+ direct) came in at 67.4% in April—compared to 55.3% in the previous month.
Indirect bids rose to 56.0% in April from 46.2% in March. Indirect bids are mainly from foreign central banks. Meanwhile, direct bids also rose from 9.1% in March to 11.5% in April. Direct bidders include money managers like Wells Fargo (WFC) and Invesco (IVZ).
Due to the rise in market demand, the share of primary dealers fell to 32.6% in April from 44.7% a month ago. Primary dealers include companies like JPMorgan Chase (JPM) and Deutsche Bank (DB). A fall in the percentage of primary dealers indicates strong fundamental market demand.
In the remainder of this series, we'll look at the Treasury bills auctions last week.