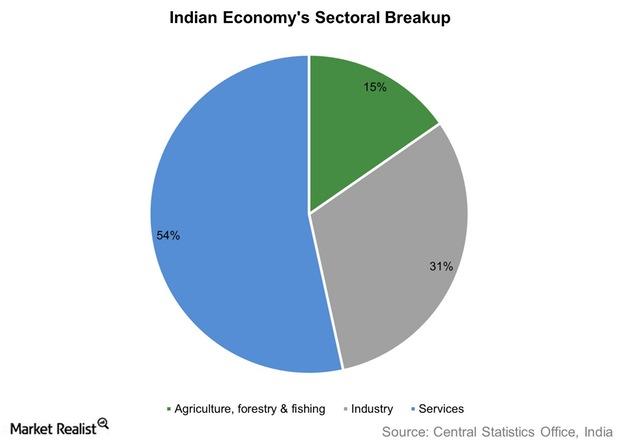 How Have India's Industry and Services Sectors Performed?
By David Ashworth

Apr. 19 2016, Updated 1:05 a.m. ET
Industry sector
In its monetary policy statement released on April 5, 2016, the RBI (Reserve Bank of India) said that the GVA (gross value added) by the industry sector "accelerated in H2" primarily due to low input costs, which helped manufacturing. "H2" refers to the period from October 2015 to March 2016, as the financial year in India begins in April and ends in March of the next year.
Though the GVA rose, industrial production was flat in the period and manufacturing production has continued to fall since November 2015. Production of consumer durables was strong while that of non-durables fell. The former shows that urban demand remains healthy while the latter shows that rural demand continues to decline. The central bank's industrial outlook indicates that "business expectations for Q1 of 2016-17 continue to be positive."
Article continues below advertisement
Services sector
According to the RBI, activity in the services sector "expanded steadily" with trade, hotels, transport, and communication being among the key growth drivers. The central bank noted that leading and coincident indicators like air passenger traffic, air cargo volumes, foreign tourist arrivals, and auto sales have increased, thus boosting the services sector.
Agriculture sector
Growth in India's agriculture sector was moderate between October 2015 to March 2016 due to a decline in kharif crop (crops that are grown during the monsoon season) production. Since the monsoon was deficient last year, crop production fell. With sops provided to farmers in the Union Budget and a forecast for a normal monsoon, better times may be ahead for the agriculture sector.
What does this mean for you?
With the latest budget focusing on inclusive growth, the lagging agriculture sector is expected to pick up pace. Along with adherence to fiscal discipline, the state of India's economy points to a bright future. In the absence of major headwinds, India's financial markets including equities (INFY) (RDY) (VEDL) and India-focused funds (PIN) (ETGIX) could perform well.
In the next article, we'll look at CPI inflation, an indicator that is crucial for monetary policy.