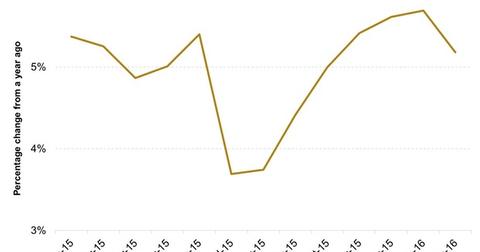 Is India's Consumer Price Inflation Indicating a Rate Cut?
By David Ashworth

Apr. 5 2016, Published 12:17 p.m. ET
India's consumer price index
The Reserve Bank of India's (or RBI) primary gauge of measuring inflation is the consumer price inflation (or CPI). In India, another measure of inflation, the wholesale price index (or WPI), assumes importance as well. To learn more about these measures of inflation, please refer to India's different inflation measures—WPI versus CPI.
There are three groups for which inflation data is released monthly: rural, urban, and combined. India's CPI inflation (combined) had slowed to a 3.3% pace in November 2014 from 8.7% in January 2014. The primary reason for the fall in inflation was the sharp decline in crude oil prices. Although the decline hammered stocks of oil companies like Kinder Morgan (KMI), BP plc. (BP), Statoil ASA (STO), and Total S.A. (TOT), it was good for the finances of the Indian government.
Among India-focused mutual funds, the ALPS|Kotak India Growth Fund – Class A (INDAX) has the highest exposure to the energy sector. The iShares MSCI India ETF (INDA) has close to a tenth of its portfolio invested in the sector.
Article continues below advertisement
The RBI's inflation target
The Indian central bank had aimed to contain inflation around the 6% mark by January 2016. Although the CPI had accelerated after August 2015, the RBI was able to achieve its target as seen from the graph above. In fact, in February, the pace inflation fell for the first time in seven months.
The focus on keeping inflation under check has resulted in the RBI not aggressively reducing interest rates. Also, the fiscal state of the country has been an important aspect for the RBI. With the government committing to maintain its fiscal deficit targets, the RBI can be expected to reduce the repo rate further either at the next scheduled meeting on April 5.
After this brief macroeconomic overview, let's look at how India-focused funds have performed in 2016 so far.