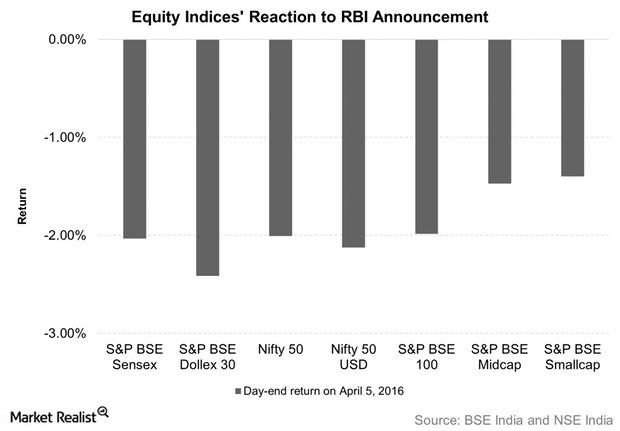 How Did Indian Equities React to the RBI's Repo Rate Cut in April 2016?
By David Ashworth

Apr. 6 2016, Published 10:00 a.m. ET
Equities fall
Indian stock market indexes fell on April 5 when the Reserve Bank of India cut the repo rate by 25 basis points. Benchmark equity indexes like the S&P BSE Sensex and the Nifty 50 ended the day down 2.0% each. Their US dollar equivalents, the S&P BSE Dollex 30 and the Nifty 50 USD, fell 2.4% and 2.1%, respectively, at closing on the day of the policy announcement.
The S&P BSE 100, which covers a broader segment of the market with 100 stocks compared to the S&P BSE Sensex's 30, also fell 2% for the day. Mid-cap and small-cap stocks were not as sharply impacted as the broader market indexes were. Mid-cap stocks, represented by the S&P BSE Midcap Index, fell 1.5% for the day while small-cap stocks, represented by the S&P BSE Smallcap Index, fell 1.4%, the least among the indexes chosen for this review. Investors should note that except the Dollex 30 and Nifty 50 USD, returns are in terms of the Indian rupee.
Article continues below advertisement
Along with equities, bond prices also fell. Immediately after the policy announcement, bonds rallied. However, they fell as the day progressed and ended the day a little weaker than the day before. Meanwhile, the Indian rupee weakened against the US dollar, which normally happens when monetary policy is eased.
Indian ADRs listed on US exchanges
India-focused mutual funds
All India-focused mutual funds were also down on April 5. The Matthews India Fund – Investor Class (MINDX) fell 1.0% while the Wasatch Emerging India Fund (WAINX) was down 1.7% from the previous day. Passive funds (INDA) (EPI) also fell for the day.
In the next article, let's look at what investors can expect from Indian financial markets going forward.