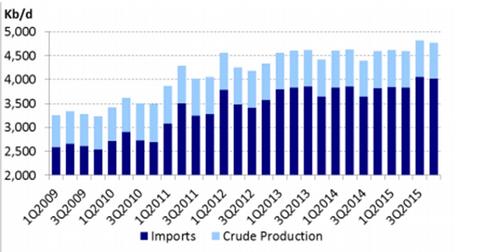 Why India Is Becoming More Important for the Tanker Industry
By Sue Goodridge

Apr. 14 2016, Updated 10:07 a.m. ET
Where India stands
China's importance in the tanker industry is well known, as it's the second-largest importer of crude oil and also one of the highest consumers of oil. China's oil imports were a key factor in 2015's spectacular crude tanker performance. Along with China, India will also assume a great deal of importance in the industry in the coming years. India also has a lot of potential to boost oil demand growth as well as shipping growth. India currently is the third-largest importer of oil after the US and China. In this article, we'll look at reasons why India (INDA) will be so important to the tanker industry in coming years.
Article continues below advertisement
India's oil demand outlook
According to the IEA, the Indian demand outlook is "favorable." The IEA forecasts demand growth to be 1.1 million barrels per day, or a 4.2% annual increase, through 2021. According to a report by Poten and Partners, India's development is similar to China's development when the country was growing by 7.8% between 2000 and 2005. If India grows at this rate, it will boost both oil and shipping markets.
India's oil product demand
In 2015, India's demand for oil products grew more than 9%, and its gasoline demand grew by a whopping 16%. Barclays expects strong gasoline demand growth in 2016, driven by growth in passenger vehicle sales, expanding road networks, and rising income levels. Higher product demand increases refineries' demand for crude oil.
India's oil sources
India traditionally imported crude oil from the Middle East. However, in recent years, India is diversifying its suppliers and has increased its imports from West Africa and Venezuela. These ports are farther from India, and a longer distance increases the ton-mile demand. The higher ton-mile demand benefits crude tankers like Frontline (FRO), Teekay Tankers (TNK), Tsakos Energy Navigation (TNP), Nordic American Tankers (NAT), DHT Holdings (DHT), and Euronav (EURN). After the lifting of nuclear sanctions against Iran, India has also increased its imports from the country.