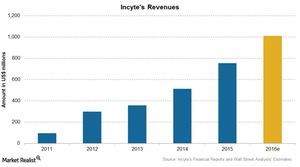 Incyte Continues Its Growth Spree in 2015
Incyte in 2015
Incyte (INCY) is a biopharmaceutical company that's focused on the discovery, development, and commercialization of oncology drugs. The company's consolidated revenues increased by over 3% to $753.8 million in 2015 as compared to $511.5 million in 2014. The company reported adjusted EPS of $0.04 for 2015, which was positive for the first time in the last few years.
The above chart shows the revenue trend over the last few years. The company has reported an increase in product revenues and royalty revenues, partially offset by declining contract revenues. The details about royalty revenues, contract revenues, and collaborations are discussed in the following articles.
Article continues below advertisement
Jakafi, whose international non-proprietary name is ruxolitinib, is the only product in Incyte's portfolio. It's the only FDA-approved drug for the treatment of myelofibrosis and polycythemia vera, rare types of blood cancer. Incyte Pharmaceuticals sells Jakafi in US markets while it collaborates with other companies to sell Jakafi outside of US markets. Other products are under clinical studies.
Future revenues
Analyst estimates show the 2016 revenues to be over $1.0 billion, an increase of over 33% as compared to $0.75 billion for 2015, considering the increasing demand of Jakafi and increased revenues from royalties. The adjusted EPS is estimated at $0.50 for 2016. Analysts further estimate that revenues will increase to $1.4 billion and that adjusted EPS will increase to $1.30 for 2017.
Investors can consider ETFs like the iShares Nasdaq Biotech ETF (IBB), which holds ~2.8% of its total assets in Incyte, or the SPDR S&P Biotech ETF (XBI), which holds ~1.0% of its total assets in Incyte, in order to divest company-specific risk. XBI also holds 2.7% of its total assets in Acadia Pharmaceuticals (ACAD), 2.3% in Medivation (MDVN), 2.1% in Novavax (NVAX), and 2.0% in Ligand Pharmaceuticals (LGND).