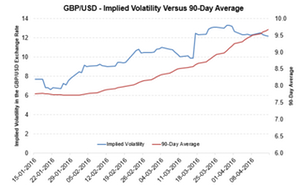 Spurred by the Brexit, the Pound's Implied Volatility Is Rising
By David Meyer

Apr. 15 2016, Updated 4:11 p.m. ET
Rising trend in implied volatility for the British pound
Implied volatility has seen a much larger rise in the pound-dollar currency pair compared to the euro-dollar pair. The primary driver of the pair's increase in volatility has been the upcoming Brexit vote for a possible exit of the United Kingdom from the European Union (or EU).
The move could lead to major challenges on the trade front. It could also cause a shift in the economic reliance maintained between the two regions. Over a period of 30 days, the implied volatility in the pound-dollar exchange rate has risen by almost 2%.
Looking at a broader 90-day range, the rise in the pound-dollar exchange rate volatility has been a strong 26% compared to a fall of 10.5% in the euro-dollar exchange rate volatility. The divergence has been heading for a steady rise since the beginning of this year on the back of Brexit woes.
Article continues below advertisement
Upcoming economic events will affect volatility
The UK referendum vote on June 23, 2016, will be a primary driver affecting the volatility in the pound-dollar rate. The Bank of England (BoE) has been keeping its monetary policy steady, with interest rates fixed at 0.5%.
Optimism regarding a hike in the benchmark rates by the BoE has taken a hit due to the upcoming referendum vote, which will play a factor in deciding estimates for GDP growth going forward.
The International Monetary Fund has highlighted the risk of exit from the European Union, leading to a surge in volatility for the British pound.
Impact on important ETFs
Looking at the performance of major ETFs, the iShares MSCI United Kingdom ETF (EWU) has fallen by 3.7% in the last month, while the iShares Europe ETF (IEV) has risen by 2.7%.
Looking at the performances of banking American depositary receipts in the past month, Barclays (BCS) has risen by 1.4%, and HSBC Holdings (HSBC) has fallen by 1.2%. Royal Bank of Scotland Group (RBS), on the other hand, is at the same level comparatively, despite increased volatility during the month.