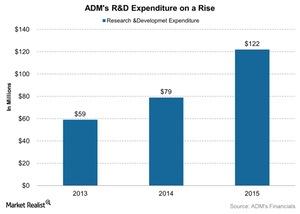 How's Archer Daniels Midland Meeting Global Consumer Demand?
R&D expenditure is rising
Archer Daniels Midland (ADM) is known for its exceptional R&D (research and development) capabilities and experience in product commercialization. The main objective of the company's R&D expenditures is to respond to demand from customers' product development or formulation needs. It also aims to improve processing efficiency and develop food, feed, fuel, and industrial products from renewable agricultural crops.
Article continues below advertisement
In 2014 and 2015, the R&D expenditure increased by 34% and 54%, respectively. For the years ending December 31, 2013, 2014, and 2015, the R&D expense was $59 million, $79 million, and $122 million, respectively. This expense is net of reimbursements of government grants. The increase in R&D expenses in 2014 and 2015 was mainly associated with activities of recently acquired WILD Flavors.
New customer innovation facility
In order to meet its customers' unique demands, Archer Daniels Midland inaugurated its new flavor creation, application, and customer service facility in Cranbury, New Jersey, last month. This innovation center is intended to let customers be keenly involved in the process of evolving new products and applications along with a comfortable work area so customers can stay connected to their offices throughout the process. This facility is an addition to one of Archer Daniel Midland's operating segments—the WFSI (Wild Flavors and Specialty Ingredients) segment. It's expected to improve the segment's sales. In 4Q15, the segment's sales declined 4% year-over-year.
Article continues below advertisement
Archer Daniels Midland created the WFSI segment after it acquired WILD Flavors October 2014. Other acquisitions that were an addition to this segment were Specialty Commodities, Harvest Innovations, and Eatem Foods. It let Archer Daniels Midland create a whole new range of ingredients and flavors that allowed it to provide fully integrated applications and solutions for its customers.
Peers' R&D expenditure
Archer Daniels Midland's industry peers include Bunge (BG), Ingredion (INGR), and Pinnacle Foods (PF). Bunge spent $16 million on R&D in 2015. Ingredion and Pinnacle Foods spent ~$43 million and $13 million, respectively.
The Vanguard Consumer Staples ETF (VDC) invests 1.4% of its holdings in Archer Daniels Midland. The PowerShares DWA Consumer Staples Momentum Portfolio (PSL) invests 2.8% of its holdings in Ingredion and 1.3% of its holdings in Pinnacle Foods.