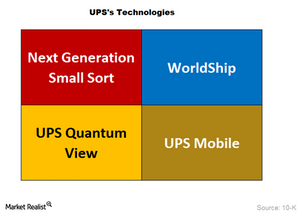 How Technology Helped UPS to Boost Its Customer Service
By Samuel Prince

Updated
Technology overview
Previously, we reviewed United Parcel Service's (UPS) evolution as the top parcel delivery company. In this part, we'll go through how technology has helped the company to climb the ranks. Technology plays an important role in acquiring clients and retaining customers, especially in the transportation and logistics industry.
In the package delivery services industry, companies like United Parcel Service (UPS) and FedEx (FDX) were able to grab the top spots by adapting to advanced technology.
Article continues below advertisement
Telematics
UPS installed telematics in approximately 83,000 vehicles by the end of 2015. This technology helps to measure a truck's performance and condition, and it records data on 200-plus related elements. Important metrics include speed, RPM, oil pressure, seat belt use, the number of times the vehicle is placed in reverse, and idling time. Along with this, the refined data and driver coaching enable the company to minimize fuel consumption, maintenance costs, and emissions.
UPS's Next Generation Small Sort (or NGSS) technology minimizes the amount of memory necessary to sort a package. The packages are sorted to bins tagged with flashing lights, rather than storing addresses. This technology reduces training time and has been installed in nearly 300 sites globally.
Shipping
UPS's WorldShip is a desktop shipping application that enables the company to help middle market and large customers manage their shipping capabilities. Customers can execute a variety of tasks such as custom labeling, creating shipment alerts, uploading customs documentation, and tracking export shipments.
UPS marketplace shipping integrates the company's website with eBay (EBAY) and Amazon (AMZN). This technology allows marketplace sellers to easily ship their orders via the UPS website or WorldShip.
Article continues below advertisement
UPS Quantum View
This technology helps customers in tracking and visibility. It manages shipments, facilitates tracking, handles third-party shipping costs, and notifies clients of any incoming shipments. As a result, the customers can speed up their revenue cycles and collect receivables more quickly.
UPS Paperless solutions allow customers to self-enroll in UPS Paperless Invoice and upload shipping documents. Through these solutions, customers can e-transmit a commercial invoice, packing list, or their own customs documents in international shipping. With UPS TradeAbility tools, customers can manage the movement of goods internationally.
The company offers UPS Mobile facility to its customers in over 80 countries. This facility includes the mobile website, m.ups.com, and apps for iPhone, iPad (AAPL), and Android devices. With UPS Mobile, customers can track, ship, find UPS locations, manage UPS My Choice shipments, and receive shipment notifications on their mobile devices.
Investing in ETFs
The current environment of sluggish economic growth has put equities on the back burner. In such circumstances, dividends become more important. Investors interested in dividends can invest in the WisdomTree Emerging Markets High Dividend Fund ETF (DEM). Prominent large-cap dividend-paying companies worldwide make up the portfolio holdings of DEM.
In 2008, UPS installed GPS tracking equipment and vehicle sensors on its delivery trucks. This was the precursor to the company's flagship technology, ORION (On-Road Integrated Optimization and Navigation). In the next article, we'll explore ORION in more detail.