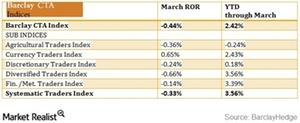 Here's How You Might Profit from Market Inefficiencies
By Surbhi Jain

Apr. 8 2016, Updated 6:57 a.m. ET
Systematic macro strategies
Systematic macro strategies seek to profit from market inefficiencies. Profit-making opportunities offered by changing trends in macroeconomic cycles are captured by systematic macro strategies. Funds based on these strategies are usually more liquid and transparent.
These strategies bear little correlation to strategies of traditional asset classes, which makes them an ideal choice for investors seeking portfolio diversification.
Article continues below advertisement
CTAs rose 2.4%, S&P 500 rose 1% in 1Q16
Since these strategies often use futures contracts to take long and short positions in global markets across asset classes (equity indexes, government bonds, currencies, and commodities) they are also referred to as "managed futures" strategies or CTA (commodity trading advisor) strategies. The Barclay CTA Index is representative of the performance of CTAs.
The index rose 2.4% in 1Q16. The broad Market–based S&P 500 Index (SPY) (VOO) generated a 1% return during that period. In 2008, the index earned a 14.1% return vis-à-vis the 38% loss recorded by the S&P 500. Another such index, the Barclay Systematic Traders Index, generated a 3.6% return in 1Q16. From the Hedge Fund Research stable, the HFRX Macro: Systematic Diversified CTA Index and the HFRI Macro: Systematic Diversified Index rose 3.4% and 5.2%, respectively, in 1Q16.
Let's move on to take a look at some systematic macro funds (AQMIX) (EBSAX) (QMHIX) that have generated returns amid heightened Market uncertainty.