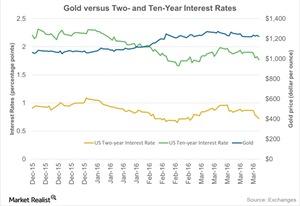 Why Was Gold the Best Performer?
By Meera Shawn

Nov. 20 2020, Updated 4:35 p.m. ET
Gold was the best performer
Among the 24 commodities listed on the S&P GSCI (Goldman Sachs Commodity Index), gold has been the best performer. Gold topped the chart among commodities. Silver remained in the fifth position on a YTD (year-to-date) basis. Despite such a remarkable performance from gold, Goldman Sachs' analysts continue to have a negative view on gold.
In a recent interview, Goldman Sachs analyst Jeffrey Currie had an unabashed view on gold and pressed on shorting it. According to Currie, the rationale behind the pessimism for gold is the upcoming rate hike by the Fed in the current year. There isn't a sure short date regarding when the US interest rates will surge. However, a hike will weigh on gold.
The higher the interest rates surge, the worse it becomes for non-yield-bearing assets like gold and other commodities. The dollar might gain strength with a rise in rates. It could shadow gold more.
Article continues below advertisement
Flight to safety
The recent flight to safety that investors took amid the global turbulence and equity fallout might be temporary. Investors could jump to the risky assets. The markets have started to stabilize.
Gold's quarter was the best over the past 30 years. It rose a whopping 16% on a YTD (year-to-date) basis. It took support from global unrest.
The mutual funds that grew exponentially in 2016 include the Invesco Gold and Precious Metals A (IGDAX), the America Cent Global Gold A (ACGGX), and the Van ECK International Invest Gold (INIVX). These three mutual funds rose 38.6%, 44.7%, and 37%, respectively, on a YTD basis.
The ETFs that also rose tremendously include the leveraged Direxion Daily Junior Gold Bull 3X (JNUG). It gained 146.2% during the same period. The leveraged Direxion Daily Gold Miners 1 (DUST) lost 81.1%. It's an inverse fund. It loses with gold's gains.