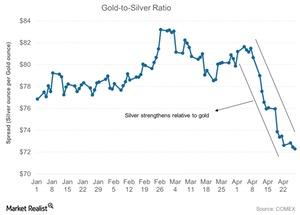 Where Is the Gold-Silver Spread Headed?
By Meera Shawn

Updated
Gold and silver technicals
The gold and silver markets have grown relatively volatile as 2016 began. Although the year has been favorable for all the precious metals, silver has outperformed the other three metals. The volatility for gold and silver is 16% and 29.8%, respectively. The call implied volatility measures the changes in the price of the call option of the security with respect to the changes in price.
Gold and silver both have gained a whopping 20.2% and 283% respectively on a year-to-date basis. Most of the victory in these two metals is due the increased haven bids extended from the global unrest. Gold closed at $1266.4 per ounce and silver at $176 per ounce on Thursday, April 28.
The RSI (Relative Strength Indicator) reading for silver is 73 and the RSI for gold is 57. A level above 70 indicates that the asset may be overbought and may see a downward revision. Similarly, a level below 30 indicates an oversold scenario and possible upward revision.
Article continues below advertisement
Gold-silver spread
The gap between silver and gold is widening and as the basic track between the performance of these two metals, the gold-silver spread has fallen drastically. The falling ratio is an indication that gold is getting cheaper with respect to silver. The markets are flooded with news that silver has overtaken gold this year.
The gold-silver spread, or ratio, was trading at 72.1 as of April 28, 2016. This means it takes about 72 ounces of silver to buy a single ounce of gold. The ratio was at 81.4 at the start of April. The RSI level for the gold-silver ratio is at 20, the lower end of the boundary. The ratio can be expected to reverse from its point. A reversal of this ratio means weakness for silver and strength for gold.
The leveraged funds that have jumped due to gains in gold and silver include the Direxion Daily Gold Miners ETF (NUGT) and the Proshares Ultra Silver ETF (AGQ). The mining stocks that also fluctuate due to changes in these metals include Coeur Mining (CDE), Yamana Gold (AUY), and Franco-Nevada (FNV).