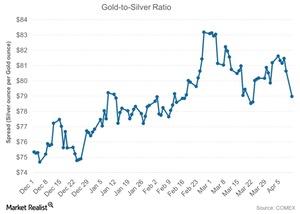 Is the Gold-Silver Ratio Headed South?
Gold-silver ratio
The rise of safe-haven bids in 2016 has caused a jump in the price of gold by nearly 18.6% on a (YTD) year-to-date basis. The same safe-haven bids have also boosted silver, which has risen 15.7% YTD. During the initial surge in gold, silver was lagging behind.
The changes in gold and silver are reflected in the changes of funds like the iShares Gold Trust (IAU) and the iShares Silver Trust (SLV). These funds have followed the returns of gold and silver and have risen 18.5% and 14.8%, respectively, on a YTD basis.
When conducting a comparative study of gold and silver, it's important to consider the gold-silver ratio, or the gold-silver spread. The gold-silver ratio measures the number of silver ounces it takes to buy a single ounce of gold. The spread was trading at 78.7 on Monday, April 11, 2016.
The ratio reached a peak of 83.2 in March, as gold had gained comparatively higher bids than silver since the beginning of 2016.
Article continues below advertisement
Technical indicators
The gold-silver ratio is trading close to its 100-day moving average. However, a few days back, it traded at a considerable premium to its 100-day moving average. The RSI (relative strength index) for the ratio is 41, drastically lower than the level seen during the past month. An RSI reading above 70 indicates a possible overvaluation, and an RSI reading below 30 indicates undervaluation.
The changes in gold and silver also have a significant impact on mining stocks like Sibanye Gold (SBGL), Coeur Mining (CDE), and Goldcorp (GG).
In the next part of this series, we'll discuss silver's rally earlier this week.