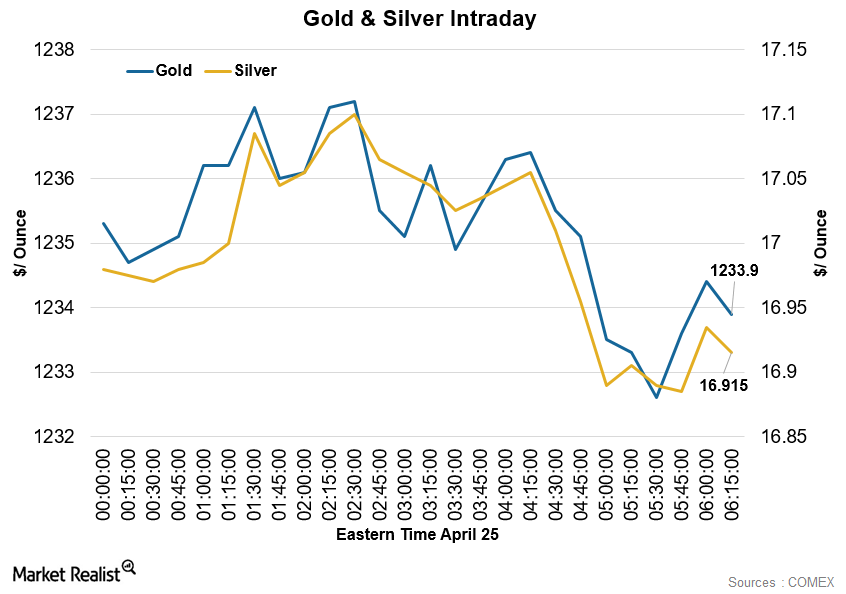 Gold and Silver Look Stable This Morning
Gold and silver look stable
In precious metals, gold and silver look stable this morning. At 6:19 AM EST, gold for June delivery was trading at $1,234.05 per ounce—a gain of 0.33%. Silver is trading at $16.94 per ounce—a gain of 0.27%.
Article continues below advertisement
Increase in net long positions
According to the latest Commitment of Traders report released by the U.S. Commodity Futures Trading Commission on April 22, the increase in net long positions was observed in gold and silver. The net long positions by speculators in gold increased by 3,030 contracts to 21,680 contracts. The net long positions in silver saw a sharp increase of 8,960 contracts to 71,420 contracts. In the last week, silver witnessed a gain of 3.3% with a surge in the volumes traded. Gold fell 0.36%. Since the beginning of 2016, silver gained around 21% and gold gained around 15%. Read Is Silver Ready to Overpower Gold in the Long Term? to see if silver outperforms the gold in the long term.
Central bank meetings will set the direction
Precious metal investors are looking forward to the outcomes of the Fed and Bank of Japan's meetings scheduled this week. Even though there are very few chances of an interest rate hike in this week's Federal Open Market Committee meeting, the jobless claims data released by the U.S. Department of Labor on April 21 showed the lowest numbers in 43 years. This fuelled speculations that the Fed could raise rates sooner than expected. On the other hand, the weaker dollar is lending support to gold prices this morning. However, the central bank's meeting is keeping a lid on the gains.
In the last week, precious metal producers Barrick Gold (ABX), Newmont Mining (NEM), Royal Gold (RGLD), and Silver Wheaton (SLW) gained 3.1%, 6.3%, 3.5%, and 7.9%, respectively. The SPDR Gold Trust ETF (GLD) remained almost unchanged. The iShares Silver Trust (SLV) gained 4.3% last week.