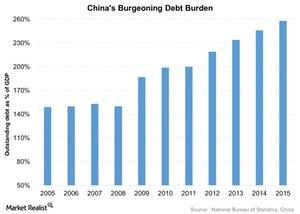 Why George Soros Warns of a Credit Crisis in China
By Lynn Noah

Updated
George Soros warns of a credit crisis
George Soros is an American business tycoon and the chairman of Soros Fund Management. During an Asia Society event in New York on April 20, he said that the Chinese economy "eerily resembles what happened during the financial crisis in the US in 2007 and 2008, which was similarly fuelled by credit growth." He added that "Most of the money that banks are supplying is needed to keep bad debts and loss-making enterprises alive."
The collapse of the US housing market in 2007 triggered the failure of the US banking sector. The credit crisis was initiated by the collapse of Lehman Brothers in 2008.
Article continues below advertisement
Financial stress is building in China's credit market. The PBoC (People's Bank of China) is continuously injecting liquidity into the system to keep money flowing in the economy. According to the PBoC, new credit rose in March to $361 billion. It exceeded the median forecast of $216 billion. This is one of the reasons why the GDP (gross domestic product) rose to 6.7% in 1Q16. It was in line with Market expectations.
Soros has been criticized by the Chinese government. He commented that the Chinese economy is headed for a "hard landing." He also made a bearing remark on yuan.
China's deep debt trouble
China's outstanding debt as a percentage of the GDP was 258% in 2015. Corporate sector debt accounted more than half of it. China's corporate debt is largely fuelled by state-owned enterprises. The money owed by the business rose to 126% of the GDP in 2015 from 92% in 2008. The government loosened the monetary policy through at least six interest rate cuts over the past year to encourage borrowing.
According to a Standard Chartered report, China's public and private debt compared to economic growth was 5.4% in December 2015. If the debt increases to more than 5% of the GDP, it's categorized as "highly risky." It's a "red flag" that signals problems to come according to Standard Chartered.
Recently, international rating agencies Moody's and Standard & Poor's downgraded China's credit outlook to "negative." They cited the burgeoning debt burden, falling foreign exchange reserves, and uncertainties in economic reforms as primary reasons.
ETFs such as the iShares MSCI China ETF (MCHI) and the Deutsche X-trackers Harvest CSI 300 China A-Shares ETF (ASHR) and mutual funds such as the John Hancock Greater China Opportunities Fund – Class A (JCOAX) and the Clough China Fund – Class A (CHNAX) provide exposure to Chinese shares. They invest in companies such as China Petroleum & Chemical (SNP) and CNOOC (CEO). They also invest in American depositary receipts of Chinese companies such as NetEase (NTES), Qihoo 360 Technology (QIHU), and Baidu (BIDU).
In the next part, we'll look at China's MNI Business Sentiment Indicator.