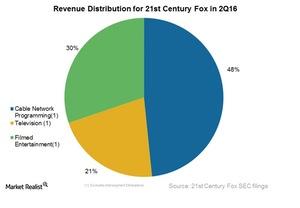 What Are FOXA's Affiliate Fee Expectations in Fiscal 2016?
By Shirley Pelts

Updated
Fox News sees primetime viewers rise
21st Century Fox's (FOXA) Cable Network Programming segment earns the majority of its revenue from affiliate fees and advertising revenue. The company is targeting double-digit growth in revenue for its US cable networks in fiscal 2016.
For media companies, one factor that affects affiliate fees and advertising revenue is program ratings and whether programming is garnering a majority of viewers. An indication of this came on April 19, 2016, when Multichannel News reported that the company's Fox News cable network had drawn 1.8 million viewers during primetime in the week of April 11 to April 17, 2016.
Time Warner's (TWX) TBS came in second place, with 1.5 million primetime viewers. The Walt Disney Company's (DIS) ESPN was ranked fourth, with 1.4 million viewers.
As the above graph shows, Cable Network Programming made up 48% of FOXA's total revenue of $7.4 billion in fiscal 2Q16.
Article continues below advertisement
Cable Network Programming in fiscal 2Q16
In fiscal 2Q16, the company's Cable Network Programming segment saw a 10% rise in domestic affiliate revenue. However, international affiliate revenue fell by 1% in fiscal 2Q16 due to the adverse impact of the rising dollar.
Expectations for affiliate fees in fiscal 2H16
For fiscal 2H16, FOXA's management stated at the 2015 UBS Conference that its affiliate fees rates are currently locked in, according to its contracts with cable companies. The company said in its earnings call that its subscribers in the United States rose by 1% compared to fiscal 2Q15.
The company also stated that it hadn't observed "any material change in the distribution requirements or minimum distribution requirements" in its affiliate agreements with MVPDs (multichannel video programming distributors) such as DISH Network (DISH).
21st Century Fox makes up 0.19% of the SPDR S&P 500 ETF (SPY). SPY also holds 2.6% of the communication services sector.